Software Acronyms Explained: TMS, CRM, LMS, SaaS, ERP, CMS

Another day, another acronym. The world of tech is rife with them.
Do you know the difference between an LMS and a TMS? Or how a CRM differs from an ERP? And what the heck is SaaS?
When entering the software marketplace, it can seem like a minefield. The best way to equip yourself is by learning the lingo. We've identified and defined 6 acronyms in particular that you'll come across frequently within the world of software, including SaaS, LMS, CMS, CRM, TMS and ERP. If you're on the lookout for a new solution, or evaluating whether your current solution is right for your organisation, then read on!
So, what do they all mean?
Use the navigation below to learn more about each software system:
What is TMS Software?
TMS stands for Training Management System and is a tool that focuses on automating the administrative side of training operations. Utilised by commercial training businesses, internal L&D departments and training arms of larger organisations, a training management system is most effective when supporting instructor-led training organisations. The core function of TMS software is designed to promote business growth by saving time and money through automation. A training management system can help you with the following:
Scheduling courses and events

Coordinating resources and instructors

Generating joining instructions, certificates and other communications

Processing payments and bookings

Reporting and tracking business intelligence
Check out the model below for a complete overview of the capabilities of a TMS.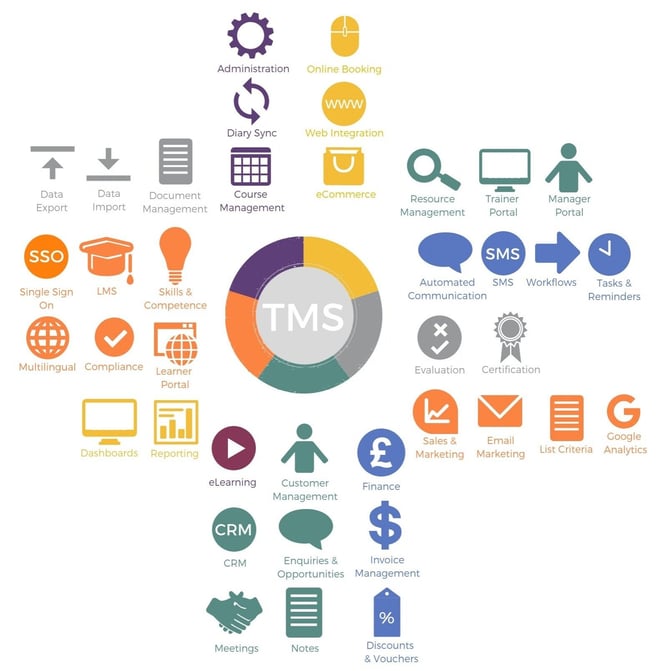 Download a PDF of the Training Management System model
What is a LMS?
Despite often being banded together with TMS's, LMS's prioritise different business objectives.
Whereas a training management system is built for training administrators and managers, the Learning Management System is built with the learner in mind. A Learning Management System is a software system that delivers online learning modules, via a browser on the internet or via a networked software solution installed on computers. This provides an online learning environment complete with quizzes, eLearning, videos and documents, which can be combined with face-to-face learning to ensure a comprehensive learning experience.
An LMS is primarily used by internal training departments to manage employee learning and development. It focuses less on the operational and administration tasks that a TMS specialises in, yet provides additional services such as target-setting and monitoring; learner journeys, and coursework submissions.
More sophisticated, modern LMS's include gamification features; using game elements to improve learner engagement
Check out 8 key benefits of using a learning management system below.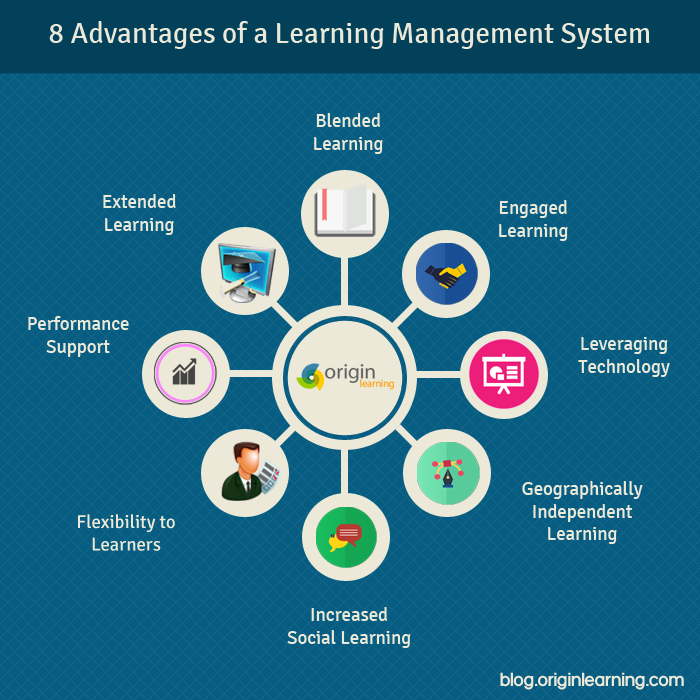 What is a CMS?
Any software that enables web-based content management is called a Content Management System (CMS). More specifically, a CMS is a software system designed for managing content in a website, like WordPress, HubSpot or Drupal. A content management system is typically used by organisations to manage their website, blog and any other hosted content such as PDFs and images.
One sizeable benefit of using a CMS is that all of your organisations' content is in one central location, which you can edit, revise and update at any point to ensure that your content is always up to date and is SEO-friendly. You can also think of a CMS as a non-developers version of website design, as it allows users to update the look and feel of their site without needing to know any code.
It's worth noting, on top of a CMS, LMS and TMS, there are many other possible variations on the __MS system, remember that an abbreviation ending with MS is usually a type of management system.
What is a CRM?
Without customers, you'd have no business. This is the purpose of a Customer Relationship Management system: to manage your customer relationships effectively. Customer Relationship Management or CRM software systems are designed to manage your sales process and/or sales funnel. Basic features of a CRM include contact management, a centralised place to keep notes from sales pitches and customer service activity, and information analysis tools to identify up-sell opportunities or at-risk customers.
A CRM is business efficiency software, but focused on the interactions your business has with clients and potential clients. The graphic below demonstrates the key aspects of a CRM system.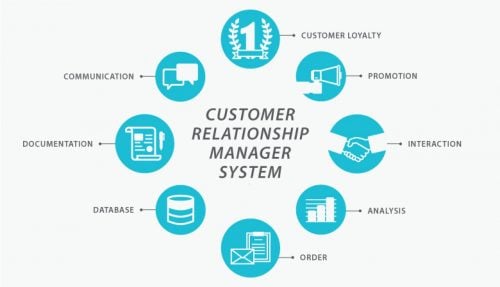 What is an ERP?
An Enterprise Resource Planning system is software designed to run your entire business. The most basic functions of an ERP are customer management (CRM) and accounting software functionality. Like the majority of one-size-fits-all solutions, many ERPs are all-encompassing tools that often house more functionality than most training departments require.
The important thing to understand, is that an ERP attempts to do the work of multiple systems in one; bypassing the troublesome hurdle of disparate systems that don't communicate with one another.
It should be noted, ERP systems often involve a higher investment than many of the solutions previously mentioned.
What is SaaS?
There is a whole line of technical products available as a service (aaS). This particular acronym stands for Software as a Service. Anytime you see something offered as a service, it means that access to the product is offered via a subscription. This provides higher value service and support to the customer and reduces production costs for the software producer.
All of the previously mentioned systems can be provided as SaaS, the main benefit of choosing this offering is that it is cloud based. Which, as well as being able to be accessed at any site on a range of devices, provides a multitude of other organisational benefits such as:
Regular updates to features and functionality (usually provided in your original subscription fee)
It is scalable meaning new modules or user licenses can be added as and when you grow
Software maintenance is carried out by the supplier so you don't need dedicated resource
The comparison chart below shows the differences between traditional software deployment and Software as a Service.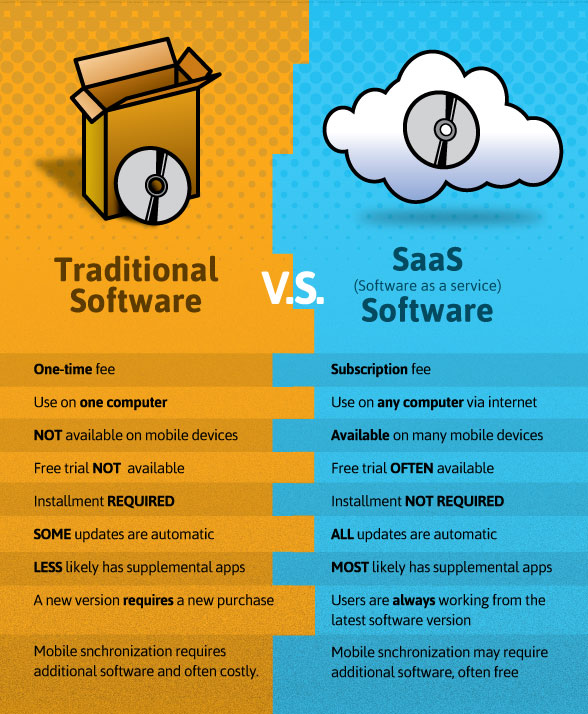 Recommended reading: SaaS vs On-Premise Software
Using multiple systems together
For most businesses, there's a good chance one of the above solutions can fulfil the core needs of a business. There are, however, situations where multiple systems must be used together in order to meet the needs of a business. For example, a CMS typically has functionality that you wouldn't find in a TMS or a CRM. With there being minimal overlap functionality-wise, it makes sense to use either a native integration or API to allow both systems to talk to one another. An example of this in practice may be if someone downloads a piece of your content (CMS) it adds the contact as a lead in the CRM.
Caution is advised if you're considering more than one solution; using multiple systems alongside one another can lead to a great deal of issues in the long run, particularly if they can't communicate with one another. Learn more about disparate systems.
Related articles include:
The Ultimate Guide To Training Management Software
Why Choose A Training Management System Over A CRM?
LMS vs TMS vs CRM: Which Management System Will Benefit My Company?