accessplanit Customers Gain Value From Training Event

As a provider of training management software, it seems logical that we put a great deal of emphasis on training and supporting our customers. We do this in a number of ways such as our online knowledge base, regular webinars and best practice guides. But one of our most popular resources are shared customer training days.
Last month we held a training day at our head office dedicated to the utilisation of the many communication tools within our training management system. The session was a success and positive feedback was well received.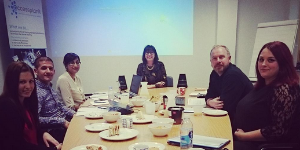 Automated communication is the lifeblood of the system
Set up correctly administrators can communicate tasks to trainers, colleagues, venues and suppliers. And, let's not forget the level of communication the system can provide to delegates both pre-course with joining instructions and pre-requisites, then with post course information including certificates, slide decks and evaluation.
Well presented, timely and relevant communication has the power to enhance brand reputation and improve customer perception and overall satisfaction. Internally, harnessing automated communication will provide clarification of task responsibilities, reduce confusion, duplication and the abundance of opportunity for errors throughout the process.
But, by far the greatest advantage of automated communication is increased efficiencies and the ability to make better use of your team.
During the training day we explored these areas as well as the use of automated communication as part of the marketing strategy. The day was filled with a mixture of theory and practical exercises including a complete end to end communications mapping session.
The event was part of our Driving Success programme. In addition to ongoing support from our dedicated helpdesk team, customers receive one-to-one consultation beyond implementation to ensure they are utilising the system effectively in order to increase efficiencies.
Last month's event included customers who have been with us for many years and one who has only just completed implementation! It's a great way to network, share best practice and discover additional benefits of the system. Thanks again to all who attended, it was a great session!
Other interesting articles include:
Learning More About The Training Reporting Tool
What Is A Training Management System? | Video