How Can Automating Processes Benefit Your L&D Team?

The process of introducing a new software system or way of working can be challenging and often met with opposition. That is why it's important to ensure that all departments as well as individuals within an organisation are satisfied, even thrilled, by the selection. This series looks at different priorities within key departments with this blog focusing on the Learning and Development department.
A survey carried out by Capterra recognised that on average the less people involved, the shorter the length of the purchasing process. However, the survey also found that if one person does make the executive decision this can cause upset with other users. And rightly so, how can one person make the decision when it affects so many other departments?
This is why it is imperative to identify each areas' objectives and requirements.
For any Learning and Development team, managing learning and development of employees is at the heart. We've found that the old adage 'your company is only as good as your worst employee' can be extremely true. This means that the ability to track compliance, monitor targets and have an audit trail of training records must be one of the key functionalities of the department.
An automated learning management system can enhance the function of L&D in many ways.
Download free Gaining Internal Buy-In Throughout Your Organisation eBook to explore the full benefits to your business.
The stakeholders included in the eBook are outlined below.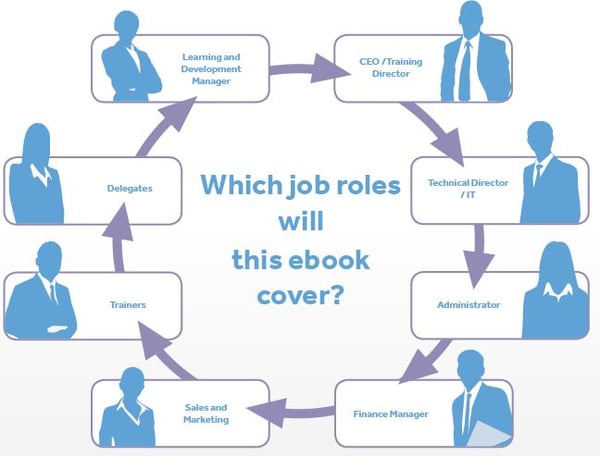 This blog post explores some of the key benefits taken from the eBook in detail.
3 key benefits for the L&D Team
1. Ensuring qualification compliance
With ever changing and growing laws and training requirements especially in industries such as Oil and Gas and Healthcare, it can be extremely difficult to track the company's overall current status. And, when one error can cost a company dearly, the ability to easily record training against employees and recall this information at the touch of a button will reduce this risk enormously.
Furthermore, reminders of when a qualification is about to expire also provide prompts to ensure that the individual takes action and the organisation does not become uncompliant. Find out more about advantages of tracking training within your business.
2. Providing individual learner responsibility
One of the greatest benefits of a training management system is the ability to allow and encourage staff to take responsibility for their own learning through the use of an online user portal. With this, employees are able to track their progress and identify how far through a programme they are on the way to gaining a qualification. Staff can also access learning materials online including eLearning, documentation and videos. These course materials can be centrally updated and distributed allowing for faster rollout and consistent training.
Individual user portals provide the opportunity for feedback and evaluation to be provided for future improvements. This can identify strengths in current training programmes and skill gaps that can be focused on in the furture. Furthermore, employees are provided with the ability to request further training and book on to additional training.
This all provides a more personalised training experience for course delegates and encourages them to take ownership of their learning.
3. Target setting and monitoring
The ability to set targets and monitor employee progress against them is crucial for staff development. This information can be utilised within the appraisal process and can be used as the basis of reviews. It is also useful for ad-hoc feedback to further improve the process.
Making sure targets are realistic and achievable ensures that each member of the team recognises that their work contributes to the overall company objectives. It also means that each member of the team is comfortable and confident with their targets which means they are more likely to achieve them.
Target setting and monitoring is extremely important to observe business operations and overall employee performance. A training management system can assist in ensuring that employees are on track and that learners needs are identified and recorded.
To explore more L&D benefits and to delve into the advantages of a training management system to other departments and roles download the Gaining Internal Buy-in Throughout Your Organisation eBook today.
Other relevant titles include:
How Can Automating Processes Benefit Your Finance Team?
How Can Training Automation Benefit Course Delegates?