How to define and embed core values in to company culture [with examples!]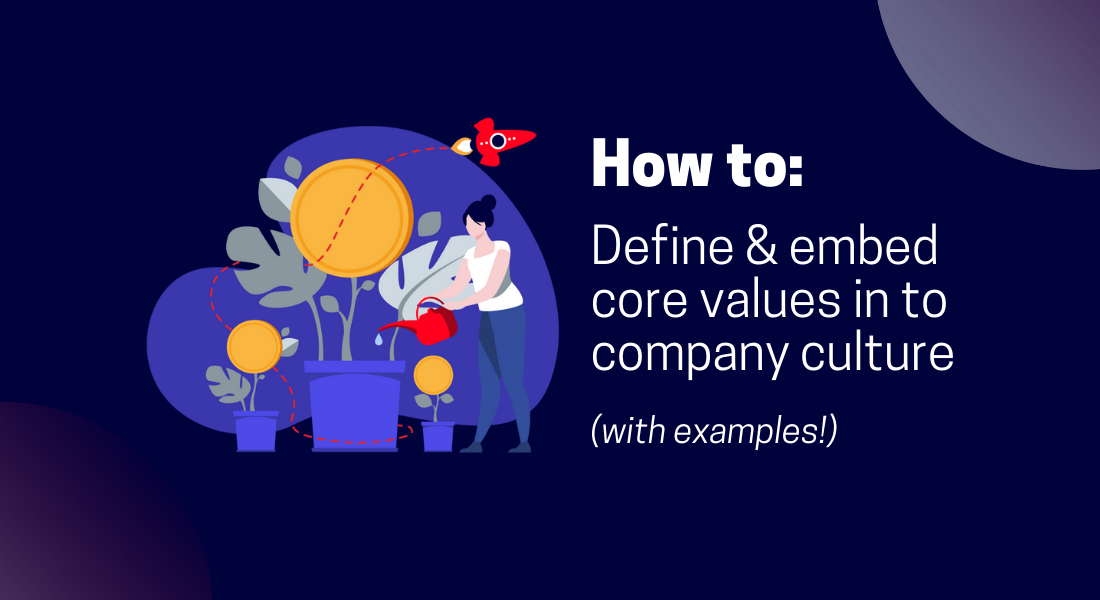 What are core values?
Core values, also known as company values, are the shared beliefs and behaviours that guide the way that your employees behave. It can help employees understand and differentiate between right and wrong and ultimately sets expectations.
They are the behaviours and attitudes that come naturally to the people that just 'fit' in your business, and form a huge part of a company's culture and identity.
Fearless Culture sums up core values by saying: "Values are how you expect people to behave; they bring your 'why' to life."
Why are core values so important?
Great core values mutually benefit both the company and the employee. Unfortunately, many businesses have a set of values that either don't mean very much or aren't enacted by the majority of their team.
Firstly, core values can aid faster decision making. At accessplanit, it's not uncommon to hear the accessplanit team asking one another - "Is that the accessplanit thing to do?" Using your core values as a sounding board instead of your line manager allows for faster decisions and increases self-sufficiency among staff.
Second, they're useful at helping you hire new staff. All of our job candidates at accessplanit have a pre-interview call where we qualify whether they're a 'values fit'. Core values questions then make up around half of the main interview. For us, core values and culture fit is much more important than skills, experience or talent.
Following a successful hire, values can help you to assess the ongoing development and performance of your employees, and allow for feedback in reviews. And yes, it's not nice, but ultimately if someone isn't a values fit, not only do they underperform in their role, they also damage your culture! Therefore, core values have their place in firing employees, too.
Core values can also be effective at keeping employees motivated and engaged, as well as improving performance. By knowing what the company is trying to achieve, and what they can contribute in their role, they are able to contribute more effectively. By creating a culture and shared mission that everyone believes in and can work towards with a group of likeminded individuals, core values can also contribute to increased employee satisfaction and morale.
7 great examples of core values
Core values come in all shapes and sizes. Some values might be detailed and specific to the particular industry, product or service, however there's many more that are simply generic, relying on single words over statements or beliefs. Here's some of our favourite core values from a number of well-known brands:
1. Headspace
Headspace are an organisation committed to educating the world on the benefits of meditation through their app, animations, guided meditations, articles and videos. They started up in 2010 and have grown considerably in that time, and at the heart are three powerful core values:
Selfless drive: We want passionate collaborators, people who are dedicated to improving the health and happiness of the world.
Courageous hearts: We want compassionate people who make the workplace a training ground for personal growth and transformation.
Curious minds: We want explorers, people who are willing to go to new places and are open to testing, learning and iterating as they go.
2. Salesforce
CRM giants Salesforce need no introduction. They sum up the following 4 values as "our guiding compass, helping us venture into new places and reach great heights." What I particularly love about their values is their inclusion of equality and their aim of creating a more equal workplace and world.
Trust:

Nothing is more important than the trusted relationships we have with everyone in our Ohana.
Customer Success:

Our growth is based on mutual success. When our customers and our employees grow, we grow.
Innovation:

Thinking differently is in our DNA. Our technology empowers all Trailblazers to innovate.
Equality:

We respect and value people of all backgrounds. Together, we create a more equal workplace and world.
3. Xero
Xero, an online accountancy business based in New Zealand have 5 values that create what they call 'a special culture' and 'Xero magic'. The use of hashtags is an interesting take, and we think their choice of words is powerful.
#Beautiful:

Engage, delight and inspire. Take pride in your work and go the extra mile. Ensure high standards and do your best everyday.
#Ownership:

Step up, drive it, and deliver it. We collaborate, communicate, and we're accountable. We do what we say we'll do.
#Challenge:

It's about dreaming big and changing the game. We ask why, we challenge the status quo, and we innovate at every turn.
#Champion:

We aim high and create opportunities for ourselves and the team. We lead the way and drive initiatives that make Xero the best in its class.
#Human:

Be yourself, bring your own perspective and you'll belong. It's about being real, honest, approachable and working together to make a difference.
4. Google
Of course, Google had to feature on the list with their 10 values, or rather, 10 statements that they know to be true. It's easy to see how each of the below could be used to dictate behaviour and drive company culture.
Focus on the user and all else will follow.

It's best to do one thing really, really well.

Fast is better than slow.

Democracy on the web works.

You don't need to be at your desk to need an answer.

You can make money without doing evil.

There's always more information out there.

The need for information crosses all borders.

You can be serious without a suit.

Great just isn't good enough.
5. Atlassian
Australian software company Atlassian have a refreshing unapologetic attitude to company values and expected behaviour, without any frills. It's direct, it's passionate and it's concise.
1. Open company, no bullshit
2. Build with heart and balance
3. Don't#@!% the customer
4. Play, as a team
5. Be the change you seek
6. Ben & Jerry's
Along with their delicious ice cream, Ben & Jerry's are also well known for prioritising and embedding their core values right from the off. There's a shared belief that all 3 components below must thrive equally. I can personally confirm their first value is on the money!
Our

Product Mission

drives us to make fantastic ice cream—for its own sake.
Our

Economic Mission

asks us to manage our Company for sustainable financial growth.
Our

Social Mission

compels us to use our Company in innovative ways to make the world a better place.
7. Slack
Slack is a well-known business communications platform, with 6 core values at it's heart. What's interesting about Slack his that they've opted for emoji's to accompany each of their values (we we're unable to display them below). We also love their choice of words, particularly craftsmanship and playfulness - words encountered less frequently in the digital space.
Empathy
Courtesy
Thriving
Craftsmanship
Playfulness
Solidarity
How to define your core values
There's many different approaches to defining your company's core values. Business leaders may already have a very clear idea on what they should be, however sometimes it's not always so clear.
At accessplanit, our leadership team each chose an employee who we believed embodied our core values. We then explored what they had in common. It was actually pretty simple!
There was some back and forth about our fourth value (see below) and how appropriate it was, but in the end, it sums up who we are perfectly.
However you define yours, we believe that the #1 rule is that they are true, and that your business is committed to living them every day.
It's a useful idea to get down on paper everything that comes to mind when you think of your identity, then decide what doesn't make the cut. A good strategy when you've got your full list is to decide whether to 'keep, kill or combine' ideas - essentially a process of elimination that should ultimately help you to get down to 5-10 core values.
3 golden rules when defining your values:
Make your values easy to remember
Be authentic
Revisit and update them over time
At accessplanit, we have four core values:
Learn and improve
At accessplanit we're not the kind of people who rest on our laurels, assume we know everything or shy away from change. We're curious, open minded and we enjoy seeking out ways to learn and improve.

We have a real thirst for knowledge and are passionate about being the best we can be. We attend conferences and sign up for courses. We read, watch webinars and learn from each other.

This value is crucial to ensure that we are continuously learning from our mistakes (yes, they happen!) and that we're always getting better at what we do.
Own it
This means we get things done, whatever it takes. Our accessplanit team takes pride in our work, we have a can do attitude, we do what we say we'll do and we take personal responsibility for our actions, results and mistakes.

We're not the type of people who need micromanaging, who let others pick up the slack or who are quick to make excuses and blame others. That's just not who we are at accessplanit.
Never Give Up
When things don't go as expected, we stay calm and level-headed, we persevere and we persist. At accessplanit we succeed because we keep trying.

If you're the type of person who wants an easy ride, who gets down then they hit a setback or quits at the first sign of trouble we're not the place for you.
No A***holes
When you're with the accessplanit team you get a feeling that you're with the good guys and part of something special. We're team players, we're humble, there's no attitude. Everyone at accessplanit really cares, we care about our colleagues and our product and we're passionate our helping our customers.

To put it another way, people who don't give a sh!t, who put themselves above the team, are arrogant or have an ego just won't fit in.
How to bring your core values to life
Core values can (very) easily fade in to the background of busy organisations who don't prioritise the embedding and reinforcing of values in to company culture. If it's not directly connected to your employees day to day or business operations, it's easy to see how that disconnect can occur. We've taken a number of steps at accessplanit to help ensure our core values to stay fresh in the minds of employees and that we live and breathe them daily:
Values awards: Each quarter, 4 members of the team receive an award for one of our core values. The award recipients are chosen by the previous winner and are based on tangible examples that have been enacted in that quarter. The current Values Champions are also responsible for coming up with a values game at our mid-quarter updated (aka Wine Downs!)
When we mention 'games' above, over the year's we've enjoyed many a game created around our core values. This involved things such as:

Hook a duck - We set up a paddling pool with a number of ducks (not real ones) - each employee had a turn of trying to hook a duck and answer a values-based question that was on the bottom of the duck they caught.
Film questions - We showed clips from a number of different films and the audience had to guess what value was being demonstrated in each clip. Eg. Rocky was of course, Never Give Up!
Pot luck - We split in to four teams, then set up our pool table. Team members would take it in turn trying to pot a ball, if it went in, you had chance to answer a values question - if you got it correct, you gained a point for your team!
Here's a few of our team playing a values game of Jenga!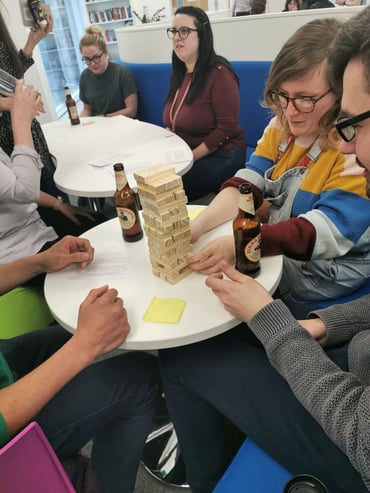 Kudos: Our team give each other Kudos on our HR system whenever they demonstrate a core value. We have a running tally of Kudos given each month which helps to inform our next round of values champions!

Give them pride of place: Our core values sit front and centre - whenever someone enters the office, you can't miss them! This not only emphasizes the importance of them within the business, however it also serves as a reminder, particularly for newer employees!


Values leader
Our passion and dedication to celebrating our core values and fostering a great company culture has earned accessplanit a place on Breathe's Culture Leaders List 2021.
Over 150 organisations entered, demonstrating their company culture in action across a range of topics including company values, support initiatives for employees, opportunities for learning and development and engagement.
If accessplanit sounds like an organisation you'd like to be a part of, why not check out our careers page?
Takeaways
The impact the right (or wrong!) core values can have on company culture cannot be understated.
All great brands know what they and their employees stand for, and are united in their mission and purpose. The exercise of defining your company values is step 1 of a much bigger process, which relies on reinforcing these values and integrating it in to business operations to aid decision making, hiring & firing, performance, motivation and team work.
By embracing and living your values each day, you can ensure everyone in the business remains on the same path, understands what is expected of them and are united on a common goal.
For more great content, please consider subscribing to our blog!