5 challenges facing training providers in 2022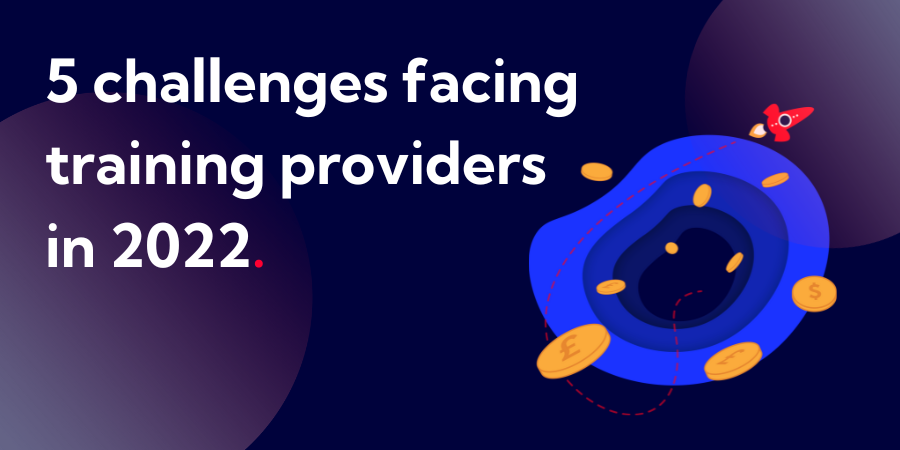 Whether you offer courses for yoga instructors or health and safety compliance, every training provider faces different challenges. In recent years, we've had to adjust and adapt to these challenges in ways we may have never experienced before.
Even if you've somehow managed to navigate the past couple of years without too many unexpected challenges, there's likely at least one area or process you've always wanted to improve on.
Each year, accessplanit release a survey to discover more from training professionals on several current and topical themes. Following this, we then create our annual Training Industry Benchmark Report that allows professionals to see how they compare with other training providers.
This article will explore the current challenges training providers face, and what we can do to mitigate these challenges.
To start things off, below is a word cloud collating the thoughts of the training professionals who participated in this year's survey, when we asked them to describe the state of the industry in 2022: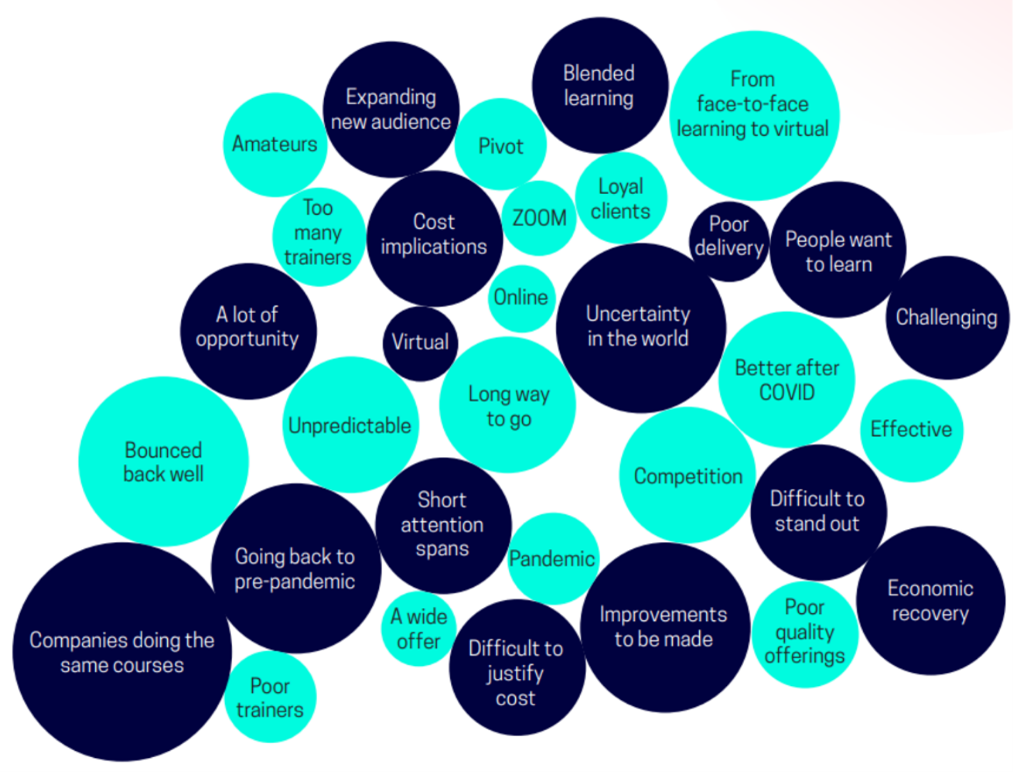 Let's review the current challenges impacting the training industry, according to data from our Training Industry Benchmark Report 2022.
According to our report, here are the top challenges faced by training providers in 2022:
Increased competition

Growing costs

Course promotion

Lack of resources

Alternative learning methods
How can we gain a competitive advantage over other training providers? Can we be more creative with our resources? How can we keep up with learning delivery trends? What about managing the increase in costs to run our courses?
Increased competition
Our report reveals the top overall challenge training providers are facing is an increase in competition in their respective industries, with 36% of respondents marking it as one of their biggest challenges.
As more training providers have adapted to online learning, delegates can enrol themselves on a course from anywhere in the world. Many training companies will now be competing for delegates internationally as accessibility to a wider range of courses is now on everyone's doorstep.
The challenge
Competition between training companies ultimately decreases their respective market share, shrinking the prospective customer and delegate base – especially if demand is limited.
A competitive market can also cause a 'price war', driving prices down in the hope of gaining market share. This of course decreases profit margins for each sale or service.
What can you do?
There are several ways to build competitive advantage in your training business.
A great starting point is having all of your customer information in one place. That way you can see details at-a-glance such as your customer demographics, their course history and qualifications, and any communication you've had with them.
This allows you to gain a deep understanding of your customer base, allowing you to tailor your customer experience journey to each type of customer. It's also a great tool for personalising your marketing strategy, too.
A customer relationship management system, or CRM, can help you stay organised by integrating your sales and marketing data with your delegate's course information, purchase history, attendance, and feedback.
With all your past, present and future customers' data together, you can deliver an exceptional experience for your customers.
Growing costs
Another big topic in our Training Industry Benchmark Report, with a third of respondents identifying it as a key challenge for 2022, is the increase in costs for planning and facilitating training courses.
The challenge
With the steep rise in costs over this past year, shrinking bottom lines and declining profit margins have driven organisations to find ways to save costs without impacting product and service quality.
What can you do?
Ensuring you have complete visibility over your financials with in-depth reports is a great place to start. This gives you the insight to act and make the right choices for your business.
Whether its course profitability, business development, compliance tracking, budgeting or forecasting, having the right reporting tools in place is key for identifying ways to mitigate the impact of growing costs in your training business.
Course promotion
In last years' report, we found that squeezed budgets led to a reduction in marketing spend across most promotional activities. This year however, training providers are seeing the need for promotion more than ever.
Year-on-year we have seen the same three methods of promotion remain the most popular choices for training providers. These being social media, email campaigns and word-of-mouth.
The challenge
Over a third of training providers noted that effective course promotion was one of their biggest challenges this year.
Pre-pandemic, in interesting flip occured in the popularity of social media and word of mouth. However, reduced budgets over the past few years have seen an increase in the reliance of word-of-mouth for promotion, and slowed growth of the pre-pandemic rise of digital marketing methods.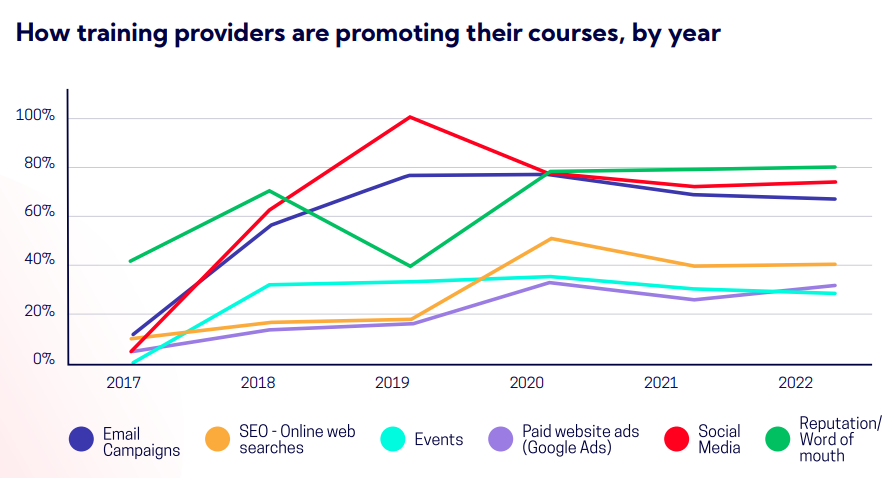 What can you do?
This year, almost 90% of training providers reported utilising LinkedIn as a means of promoting their business. Once dominated by recruiters and job seekers, LinkedIn is now the highest used channel for promotion in the training industry.
if you think about it - gaining clients through LinkedIn recommendations and connections is much the same as word-of-mouth. In fact, there is most likely a crossover in responses by trainers gaining word-of-mouth clients via LinkedIn.
It's an great cost-effective way to spread brand awareness and authentically grow your reach.
Making sure you have robust sales and marketing tools in place is also key for creating a strategic promotional plan.
Lack of resources
Last year, more than half of training providers predicted they would be operating some sort of self-service online option for clients. While the amount of providers offering this service has risen to 38% this year, it is far from the predicted outcome.
The challenge
Despite predictions of steep growth in online training delivery services last year, our report shows a more slow and steady upward trend for the industry as a whole. The resources required to support the transition to online services, such as extra staff and updated technology, may take a little longer to gather for some businesses.
What can you do?
As the age-old saying goes - if you fail to prepare, prepare to fail! Planning a new project from end to end, mapping out as many tasks, resources and contingencies will give you the best chance at getting the most out of your time and budget. Make sure you get input from key members of your team for their insight into each step of the process.
Of course, resource management tools as part of accessplanit's training management software makes managing your resources a breeze. Assign and track trainers, course materials and other resources alongside courses to keep everything running smoothly, allowing you to free up time to focus on new projects.
Alternative learning methods
It comes as no surprise that alternative learning delivery methods threatening traditional classroom training has once again been highlighted as a big issue for training providers.
Necessity is driving more training providers online, which threatens less technically-savvy providers. The transition onto online is also reflected in other behaviours within the training space - for example, less than 10% of training providers now rely on paper feedback sheets - down by 60% from 2016!
The challenge
Last year, 70% of training providers expected to be running some sort of eLearning offering by 2022. However, the reality is that only 50% of respondent training companies this year are running online courses.
Providers who are not yet offering online courses are competing with lower-priced (and less expensive to administer) courses, with many of them being flexible enough to be accessed 24/7, anywhere in the world.
Another factor to consider is the unpredictability of training and learning trends - will the tide turn again to favour traditional classroom training in a few years' time?
What can you do?
If you're finding yourself in a situation like this - the more information you can gather about your prospective customers and delegates, the better.
Traditional classroom training will be more favourable in some industries than others - so if you haven't already, why not do some market research? Feedback surveys, focus groups, and interviews are great for finding out what your specific customer base would like from your training courses.
From there, you can then break the task of transitioning to online into smaller, easy-to-manage projects, and be confident and strategic with which courses you are offering online.
An all-in-one solution
If you're looking for an all-in-one solution to the challenges your training business is currently facing, why not book a demo with us?
Our software automates your repetitive tasks and processes, keeping things running smoothly and freeing up time for you to focus on what matters to your business.