Blended Learning: 5 strategies to get started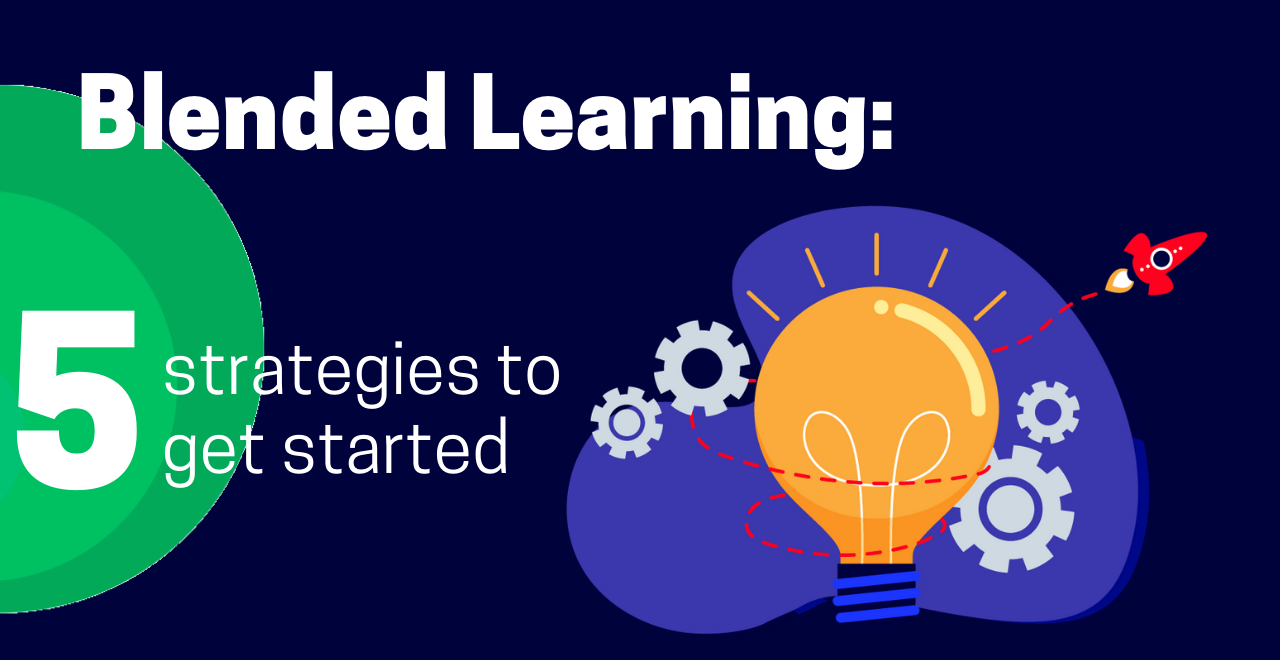 Is the training industry set for a blended future?
Increasingly, training providers are reaping the rewards of diversifying their training provision, forging exciting new pathways that befit the modern learner, while also helping to reduce costs and differentiate themselves from competition.
The pandemic has had a large part to play in accelerating the transition of training providers to more online and varied methods, however we must not lose sight of the importance of in-person training. 97% of training professionals who entered our training industry survey believe in-person training will still be in-demand post COVID for the following key reasons:
It's more collaborative & interactive
It needs the human element
It's more engaging
It's safe to assume the majority of training providers will offer some form of hybrid learning for delegates moving forward, but just how effective will these new learning programmes be? Are they the result of planned, piloted, data-driven research with the learner at the forefront, or are they a COVID stop-gap that has carried through to become the norm?
Regardless of the position your training business finds itself in currently, this guide will provide you with 5 key strategies to think about when setting up an effective blended learning offering. This guide summarises the key themes we discussed in a recent blended learning webinar, where accessplanit were joined by Paul Higgins, UK Account Executive and Roy De Vries, Customer Success Manager at aNewSpring, a software company that provides a blended learning platform for training businesses.
Before we go any further, I recommend you check out this blended learning cookbook created by aNewSpring, laying out how training providers can develop their own blended learning strategy. As it will soon become apparent, we use this cooking analogy (rather a lot) throughout this blog.
Without further ado, let's check out the 5 strategies needed to make the perfect blended learning bake. Use the navigation below to jump to different anchors on the page.
So, what takes your fancy?

The first thing to ask yourself as a training business that is considering implementing a blended learning strategy is simply: "What do we want?"
Establish objectives
Working out what you are trying to achieve by implementing a blended learning strategy will go a long way to helping you decide what objectives you should set. Perhaps you're in a saturated market and you're looking for a differentiator, or maybe it's an opportunity to reduce costs in your training delivery. It could be that you're simply looking to improve the effectiveness of training programs. Being clear about your intentions from the outset is key.
Small steps, big impact
Changing learning methods and cultures is not a process that can (or should) happen overnight. There's often a number of different people that this change will impact, and any knee-jerk changes or process overhauls could lead to some undesirable consequences in terms of buy-in and uptake. Everyone has an equal part to play in the process, whether that's sponsors, stakeholders, delegates or instructors.
The importance of having a map
Paul referenced work he has previously carried out at Fire Service College, a training provider based in Moreton-in-Marsh, who were planning to implement a new blended learning strategy. The overall objective of this was to be a differential in the marketplace, however they were also trying to save within the course delivery and reduce the drop-out rate of delegates. Many of the training exercises in their current delivery were collaborative in nature, therefore if delegate numbers were short this impacted the effectiveness of the training. Setting these three objectives from the start allowed Fire Service College to benchmark the success of their new strategy throughout.
Having a map in place is effective in helping to stay on the right course and direction of travel for your desired objectives. Sure, you may get lost. However, having mechanisms in place to allow for constructive feedback from your stakeholders & delegates can ensure you can make any amends as you go!
Selecting your ingredients
"We've decided what we want, but how are we going to get there?"
Choosing your learning interventions
When formulating your blended learning offering, its important to approach the planning stage with an open mind. Old ways won't open new doors, after all. Involving all of your stakeholders, sponsors, delegates and line managers in the process of creating these new learning experiences is critical in order to encourage buy-in and nurture the culture that already exists. Ultimately, gaining buy-in here will help to avoid the dreaded: "But we've always done it this way".
In the early stages of planning your new blended strategy, it's useful to first find out what's working well for you already by performing an audit. An effective way of doing this is to hold interviews with delegates, trainers and well, anyone involved!
Holding interviews
In one particular role where Paul was looking to embed a new learning strategy, he decided the best way to audit the business would be to hold interviews with stakeholders. Paul uncovered that trainers were feeling quite frustrated and not being listened to, which was difficult to hear, particularly as they had a number of great ideas for potential improvements. Things like equipment not being up to scratch, lacking resource availability and having to work late at nights were all concerns raised by trainers. This audit also involved looking in to feedback from delegates on happy sheets, all of which being crucial information in helping to shape the new strategy.
The old way involved a lot of wasted time for delegates, along with expensive resource and environmental costs. Everything happened within 4 walls. The new way involved online and offline learning, questioning, testing, eLearning, dynamic feedback, discussion boards, video, simulation and breakouts.
Further reading:
70:20:10 Institute: The 70:20:10 model dictates that 70 percent of learning comes from experience, 20 percent comes from collaborative work and 10 percent comes from planned learning interventions.
Blooms Taxonomy: Consisting of 6 stages, Blooms Taxonomy categorises learning objectives in to different levels of complexity - remembering, understanding, applying, analysing, evaluating and creating. It's effective at helping trainers train and delegates to learn.
Knowledge, Skills, Attitude (KSA): Training should always address each component of the acronym, together making up a core part of learning and development.
Prepare the course
"Let's start putting it together"
Screening your delegates
Before you change anything, make sure you can measure it. It's worth first conducting an assessment. Look at the prerequisite knowledge and skills of your delegates. This can be treated almost like a screening process. You can use visual stimulation, matching questions, video and more to see what is relevant, suitable and well received by delegates.
Ultimately, having that situational awareness to ensure the learning experience reflects the real world and be relevant for delegates is key, with a special focus on progressive repetition. Reinforcing what's been learnt with assessment, lessons and learning forms the basis of an effective blended learning program. A mistake that's often made is to keep going over the same information - that's simply not progressive!
Your end goal should accurately reflect the learning pathway - what are your delegates trying to achieve? Is it certification, mandatory training or developing soft skills?
Importance of brand
Your brand is an important component when constructing your offering, both by differentiating yourselves from competitors and creating personalised learning journeys. Building your brand in to the delivery is also effective at embedding and promoting company culture within your organisation. Facilitating the opportunities for team collaboration and the creation of social communities is key within an effective blended strategy.
Further reading:
Ebbinghaus Forgetting Curve: The ability for the human brain to retain memory decreases over time. Unless we regularly review and reinforce this information, we will lose the memory of it in a matter of days or weeks. Without progressive reinforcement, learners will forget around 90% of what they learnt in the month before!
Dale's Cone of Experience: Composed of 11 stages, Dale's Cone of Experience was designed as a metaphor to show the progression of learning through different experiences.
Add flavour
"Lets spice things up!"
Making it memorable
Adding flavour is all about making your blended learning memorable. What is it about your offering that's going to keep delegates coming back for more?
One of the first things that jumps out (which we haven't discussed yet) is the technology that is used to support your offering. After all, you need somewhere to host any online material, carry out assessments and manage the administration side of things.
One thing to be aware of when looking at suitable technology is to ensure it's client leading not technology leading; all the bells and whistles doesn't mean it's going to deliver core competencies and practical application that's required to be effective for the learner.
Re-using ingredients
The beauty of blended learning is that a standard learning journey can be broken up in to a number of different modules, modules which can be reused and repurposed for other courses and aspects of learning within the business. Working smart means you avoid having to duplicate your workload!
What's your spice?
There's many ways to make your offering memorable, from the learning environment through to the structure of the course. Finding what you do well already can help a great deal here.
Serve it up
"Time for the taste test!"
Validation
Now we've reached the time of plating up our wonderful bake. But, how can we validate it?
A great way to do this is to perform pilot tests, ensuring the people that are piloting closely resemble the end delegates.
If not already in place, devising a process in which these users can provide constructive feedback is key. Recognise also that there's business metrics that you want to track but also learning metrics, therefore getting the feedback of your whole team is crucial, including line managers and senior leadership.
Finally, you want to recognise the motivations of each party involved, and in turn know how you can measure the wider impact of your blended learning strategy other than just the number of delegates enrolled.
Now, take the time to celebrate your achievement!
Further reading:
SBI Feedback Model: The Situation-Behaviour-Impact tool is great at helping to provide more effective feedback, focusing on the specifics of situations and the impact this has on others.
Takeaways
Getting started with blended learning is not as complex as you might think, assuming you start off small and build slowly. Trying to do too much, too soon, is a sure-fire way to upset key stakeholders and break down any learning culture that currently exists.
Embedding a new learning framework within your business relies on close collaboration with all involved, through regular feedback and check-ins to testing and data analysis. Using the five strategies above, you can create powerful blended learning experiences that stand the test of time and prove memorable for your delegates.
If you're interested to learn how accessplanit's training management software can be the 'spice' to your blended learning offering that helps you to level up against your competitors, then book a demo today.