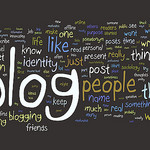 How much blogging do you do around your course content? Where do you currently share your blogs? Could you increase visibility to target markets? I know it all takes time, but for trainers content marketing is the easiest way to create a clear and distinct voice in an increasingly competitive industry.
If you're one step ahead and have already made an effort to put pen to paper and write blogs as part of your marketing strategy, that's great. To help you out, here is a quick check list on how to leverage existing channels to get your content working for you.
So, here are the top 10 that we believe are crucial to any blogging and content marketing strategy today…
1. Email marketing – One of the most effective ways to share your great content is to email it out to your prospects, but don't send emails one-by-one, set up an email campaign. You can use an independent tool for this, or the tool within your training administration system from which you can segment existing course delegates and target them with appropriate courses. You'll be able to see who opened the email from your database, and who clicked on links and read your blogs and articles. You could even follow them up with a call and use it as a lead generation tool.
2. Facebook – Sharing content became a lot easier when Facebook came along. Simply by one of your 'friends' liking an article you can have it posted half way across the world. It's incredible to think how much exposure you can get from one click of a button.
3. Free downloads – These one-page websites are great tools for content to be downloaded. If you write six great articles and lump them together as one valuable eBook you might feel it is something quite valuable. Instead of just allowing anyone access to the content, why not require them to surrender some basic details. This content whitepaper is a great example, and you may also find it very useful.
4 . Twitter – Never ignore twitter when it comes to content marketing. Building a following is far easier that on Facebook and you can share content easily – just post your article up and share on Twitter . You can even @mention the odd person to ensure they know you want them to have a read of your content or # a specific group. If it's retweeted a few times you will be marketing your services to a huge audience.

5. RSS Feeds – All of this starts with great content, without the ideas and the great writing none of it works. So, how are you generating the right ideas? Use RSS feeds to stay on top of your industry and in a position where you can unearth interesting angles for blogs and articles. If you offer HR consultancy or team management and coaching, you need to be blogging about this with some insightful comment – it's how you can stay ahead in a competitive field. Just keep an eye out for the RSS Feed logo and get fed through all the relevant information in your sector when it happens.

6. Images – An image can speak a thousand words, and can also make an article a little more interesting and eye catching. You don't need to buy these. Try using sites like www.photopin.com, but don't forget to acknowledge the sources.


7. SEO keyword tools – There are some useful tools (some are free) like the tool in Google Adwords to help you find the right keywords to optimise your blogs and articles. Make sure you find the ones that sell your key message, and are popular enough to help your articles get found on the search engines.

8. Third party websites – Which websites do your target market use all the time? Is it training sites, HR sites or others perhaps? Contact the editors of the sites and ask if you can supply some content (best to offer it exclusively). It could be a very effective way to get your articles the high exposure you need, and in the right places – don't forget to link back to your site where you can.

9. Linkedin – A prolific B2B sharing site, great to notify connections of your latest piece of content. Be sure to connect with the right people (it's quality not quantity) and be 'seen' as much as possible as the person that adds value with content that is relevant and engaging. Get active in groups as well, there are 1,000's!

10. YouTube – Content doesn't only refer to the written word, today sites like Vimeo and YouTube are really powerful content marketing tools. Once you've written the content, try reading it out in front of the camera or delivering it as a PowerPoint presentation. Your prospects could be searching for your services on video sharing sites as well as the normal search engines.

photo credit: Kristina B via photopin cc