Automate your training business with accessplanit
Send emails out automatically to your users, delegates, trainers, and more!
The accessplanit Workflows module allows you to send out emails to your users automatically, based on the rules you choose. From joining instructions to invoice reminders, email your users about anything and everything they need to know!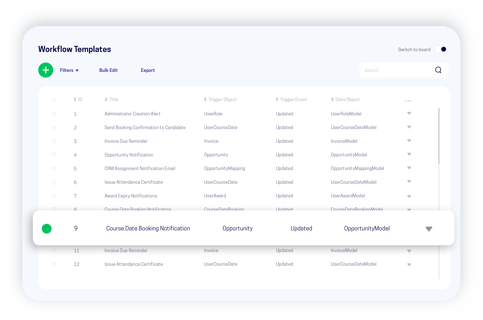 The benefits of using accessplanit Workflows
1.
Automate communications
Create a trigger allowing your emails to send automatically, saving time
2.
Eliminate human error
Say goodbye to emails sent too soon or to the wrong recipient! With the Workflow module, your emails will only go out to who you want, when you want.
3.
Define your rules
With plenty of modules and rules to choose from, you have complete control over where and when your emails send.
4.
Attach your files
Our Workflow module allows you to attach and send out your certificates, invoices, and surveys easily.
5.
Create tasks and notes
The Workflows module isn't just limited to emails: create and automate tasks and notes for your admins to access too!
6.
Track your changes
With our audit logs, track any changes you and your admins make to your workflow settings and actions.