Take bookings and payments online
Integrate course details with your website and take online bookings and payments
Our Online Booking Module allows you to seamlessly integrate your accessplanit system with your website, allowing for 24/7 delegate booking and payment - maximising your revenue potential and meeting customer needs. Real-time integration with your website means your training offerings are always up to date!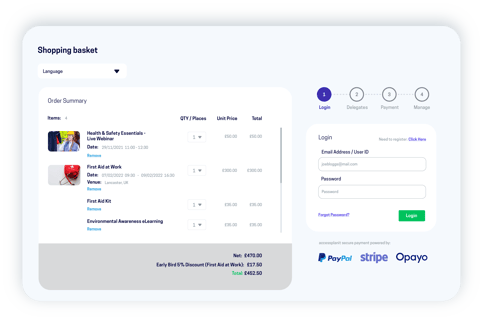 The benefits of using accessplanit's Online Booking module
1.
Flexible integration
Our flexible approach means that you can choose to integrate your website using a HTML plug-in or an API feed
2.
Display what you want
You choose the information you want to display, including course name and date, venue, price, and trainer information
3.
Make it your own
Brand your shopping basket to enhance your customer booking experience and provide a seamless transition from your website
4.
Receive enquiries
Allow potential delegates to make enquiries through your website when they're looking for more information
5.
Gain insight
Use our Google Analytics module to track user journeys, identify abandoned carts, and provide valuable marketing information
6.
Updates in real time
Instantly update your platform when a booking is completed, preventing double bookings and minimising customer queries