StreetGames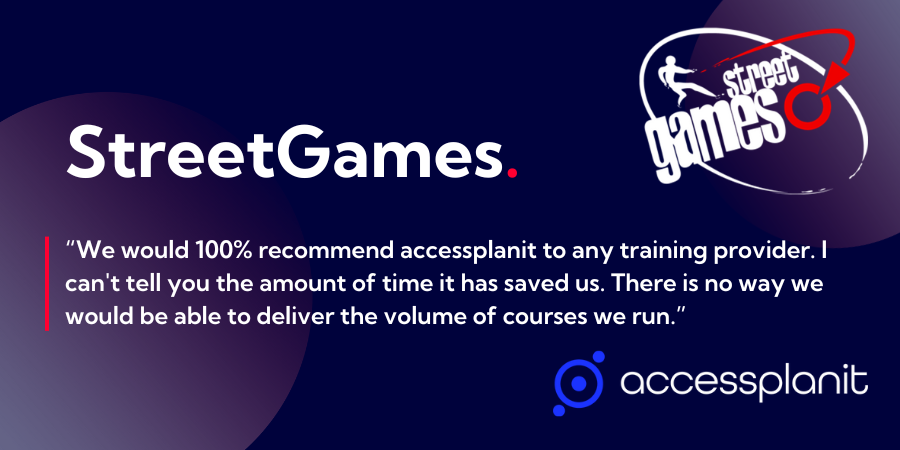 StreetGames
"accessplanit have played a vital role since we have moved our training online. We have been able to be efficient using the workflows to send out resources, certificates of attendances and zoom instructions. These have been key to both delivering our training but also enabling us to deliver excellent customer service."

Louise Hargreaves | Training Services Manager, StreetGames
We spoke to Louise Hargreaves, Training Services Manager at StreetGames, to learn more about how accessplanit has transformed the management of their training programmes.
About StreetGames
StreetGames is one of the UK's leading 'sport for development' charities. They change young people's lives and transform communities through the power of sport. They run a whole host of support for children from primary school age (such as their Fit and Fed campaign), all the way into their coaching programmes for 16-24 year olds.
They exist to bridge the sporting inequality gap for young people from low-income, underserved communities. They are recognised as trusted sector leaders who support over 1,600 local community organisations.
Speaking about their training programs, Louise says, "we work predominantly with 16-24 year olds in deprived communities, using sport as a tool to engage. We have a large menu of training courses available to them, including accredited coaching qualifications. We get them ready and available for coaching in the community, and so they've got more opportunities ahead of them."
Louise says, "we have so many success stories, which is amazing. When these young people get involved in our programmes, we can see the change that happens within them. It is such a rewarding job."
The challenge
"We are non-stop busy at StreetGames. There is no way we would be able to deliver the volume of courses, both in-person and online, without accessplanit."

Louise Hargreaves | Training Services Manager, StreetGames
Prior to accessplanit, StreetGames were using an events management software to manage their training. It wasn't working for what they needed. They did have intentions of offering online courses, but with the volume of training that they were already delivering, they didn't have the resources and it always fell to the bottom of the list.
Relying on spreadsheets and lots of paper-based forms, they were having to post out physical registers to their trainers for them to complete and return. They didn't have a platform that supported ongoing training programmes. They needed training management software to support all the work that goes into pre, during, and post training.
StreetGames partnered with accessplanit in order to organise and automate the management of their training and bring everything in to one place.
Speaking about their procurement process, Louise says "we were exploring other training management software, but accessplanit had more functionality without being over-complicated. Other platforms were hard to navigate through, or it was difficult to locate certain features, and they were not as user-friendly. We were really happy with what we saw, and accessplanit ticked a lot of boxes in terms of our requirements."
The accessplanit solution
"One of the things we were really keen on was creating and maintaining a paperless office. We started when we launched accessplanit and it was a success! 3 years later, we are still paperless today."

Louise Hargreaves | Training Services Manager, StreetGames
StreetGames launched their accessplanit platform in April 2020, after working closely with our implementation team to migrate their existing data, map their processes and configure their platform. Here are some of StreetGames most used (and loved) features of accessplanit:
Workflows
Using trigger-based actions within accessplanit's training management software (TMS), StreetGames are able to easily distribute resources, certificates of attendance and course joining instructions. "For us, the workflows are such a powerful tool", Louise says. "They are so flexible, and we're able to add to and modify them for what we're needing at the time".
Course Management
Having re-usable templates set up for each of their courses - with information such as course information/outcomes, cost and duration - allows StreetGames to schedule their recurring courses with ease, greatly reducing time spent on manual admin.
Trainer Portals
StreetGames use trainer portals to allow for self-service access from tutors, allowing them to confirm training requests, access course information and easily record attendance.
"It's so simple and user-friendly for our tutors, even though they don't use it as frequently as our central team do", Louise says. "Some of our tutors have manager access, and some have trainer access. Most have trainer access as that's all they need - they can see and complete their admin such as confirming training requests, registering delegate attendance and viewing feedback."
Course Registers
"The registers are so important and useful for us. The trainers can access and complete who has attended, and from there that triggers certificates and relevant emails to be sent to those delegates."
Email templates
Email templates allow StreetGames to send branded, personalised emails tailored to each course's content. Admin time is greatly reduced as these emails are sent automatically throughout the learner's journey.
"Without having the email templates, the time spent sending emails alone would be never-ending. Previously, we sent everything manually and it would be constant. It's crazy to think back to that now!"
Learner Portals
"The ability to have knowledge documents and online resources for our learners just allows an extra level of service and flexibility for them - they can request a hard copy too, so it's a lot more inclusive and flexible."
Integrations
With their Moodle integration, information such as delegate data and course outcomes are shared with their accessplanit platform, meaning no duplication or risk of data errors.
"Last year we did integrate with Moodle, and that has helped so much - its all automated and so efficient as it links all our information together."
Reporting tools
Due to the number of communities and local authorities that StreetGames work with, they have a number of requests for performance and feedback reports as part of their funded programmes. "We get asked for feedback reports a lot - before it would take hours to get one of those reports together. Now it's just a few clicks."
The results
"We would 100% recommend accessplanit to any training provider. I can't tell you the amount of time it has saved us. There is no way we would be able to deliver the volume of courses we run."

Louise Hargreaves | Training Services Manager, StreetGames
The functionality of accessplanit's training management software has benefitted StreetGames' Training Academy in a number of different ways, including:
Time
"accessplanit allows us the time to really plan and focus on our future, what we want to do, and what can we do. It allows time to further develop our course content and resources, and train more people."
"We love how efficient it is - it has allowed our internal processes to be so much simpler."
A paperless office
Something StreetGames were really keen on was creating and maintaining a paperless office. "When we started with accessplanit we thought - let's trial it and see what happens. It was a success and 3 years later, we still are paperless today!"
Improved delegate satisfaction
Rule-based workflows have allowed StreetGames to send and automate branded, personalised communications that are delivered without delay or errors.
"Workflows reduces so much of our admin time and improves the delegate experience too - they get their certificates immediately upon completion of the course, with no admin work involved."
Growth/scale
With accessplanit, StreetGames were able to launch online courses with ease, at a really critical time back in 2020. Looking back at when they first launched, Louise says, "with everything that was going on, we were so fortunate to have launched accessplanit. There is no way we would have been able to deliver online programmes, as we didn't have anything like it at the time. It's been a real success and we're still offering online content now."
As well as running funded courses, StreetGames also sell their training commercially, with all profits going back into the charity. "We simply would not have the time to grow that side of the charity grow without accessplanit."
"It allows us to put time aside to grow our reach - such as working on marketing, showcasing our success stories, and following training trends. All of the things that in an ideal world you want to get done, that never end up getting done as you're too busy and they go further down the list. We're now able to do all of those things!"
Support
"From a customer point of view, I feel like we're very well looked after. The support portal works really well, and I always get a response very promptly. All of my tickets have been resolved effectively and efficiently."
"accessplanit really do listen to product suggestions and are always developing - we get regular pop up notifications of updates within the platform which is great."
Next steps
With accessplanit, our platform optimisation and support doesn't stop when you launch. You will have a dedicated Customer Success Manager, who is committed to the ongoing success of your platform.
So, what's next for StreetGames? As reporting is important to them, they're working to develop their knowledge of the reporting tools available to them within the platform.
"We want to use the reporting tools more - I know we can do so much more with them than we're doing already! They already help us so much and save so much time."
Interested?
See for yourself just how our training management system can help your business. Book a demo today.