The 4 BIG Training Industry Trends This Year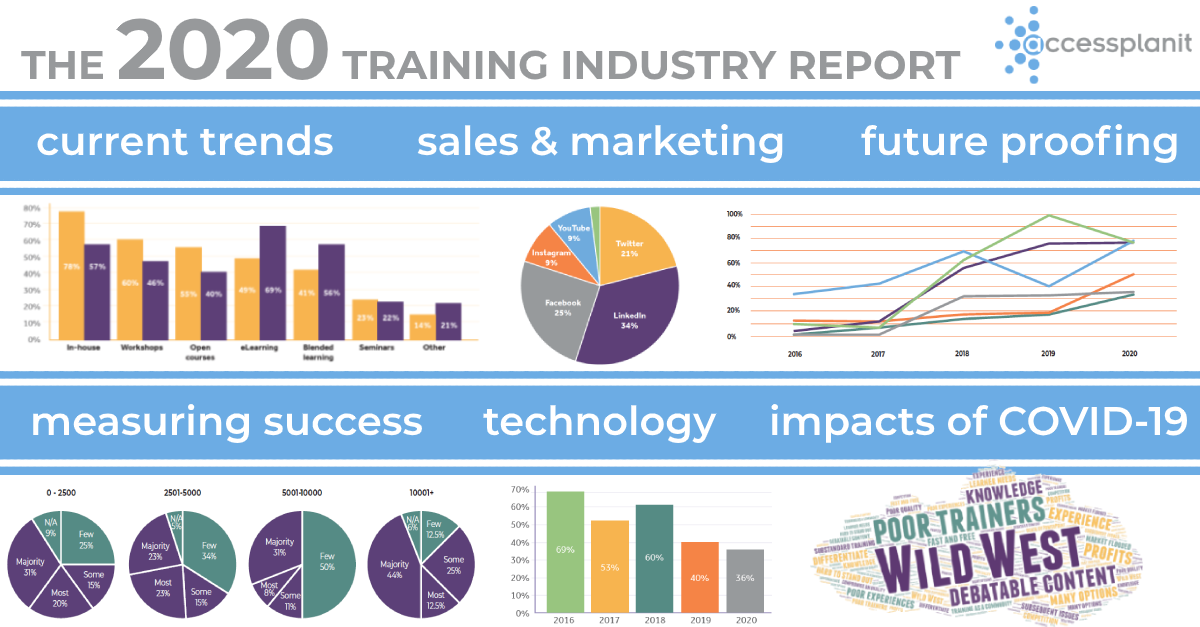 The training world is in a state of flux; a constant, shifting stream of evolution that befits an industry dedicated to learning and development. Standing out from the crowd has never been more vital, and while enhancing your brand and raising awareness of it has become easier than ever before, too few are taking advantage of the available tools.
In this time of turbulence and change, our 2020 Training Industry Benchmark Report has helped us to uncover a shift in the training landscape. From course delivery to sales and marketing and from customer service to the use of technology, we've uncovered 4 of the major trends you need to be aware of this year in the training industry.
Training Industry Trends in 2020:
Trends from the archives:
Online learning has finally boomed
This won't be ground-breaking news to most. It's been a long time coming. When looking at the graph below, it's interesting how webinar-based training has gone from being aspirational throughout 2016 & 2017, where providers recognised the benefits, but perhaps didn't have the time or money to transition their offering online, to 2018 onward where aspirations become reality. This has now reached a point where around half of our survey entrants offer some form of online learning.
The percentage of training providers running online courses, and planning to do so in the next 12 months, by year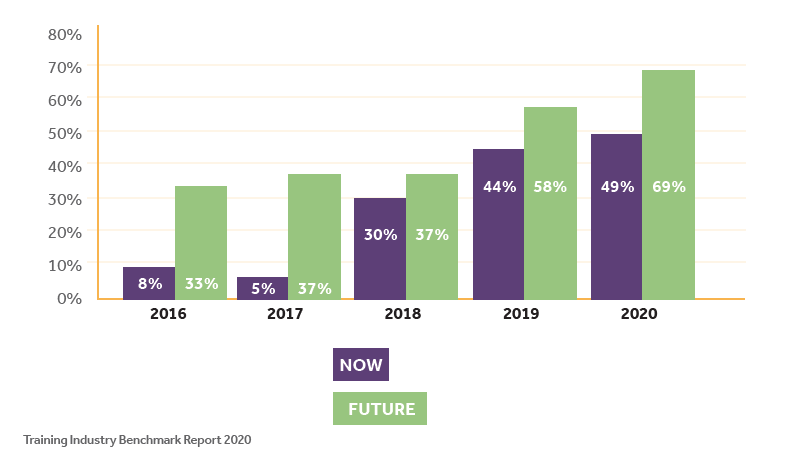 The ease and convenience of online tools to help facilitate virtual delivery is likely to be a key driver for this. You can sign up for a web conferencing tool in minutes and extend the joining instructions to delegates with ease. Many modern day business systems offer some form of integration with these web-based platforms too.
It will be really interesting to see how our 2021 bar increases again with COVID-19 - considering this report was collated in April, I can only presume there will be another considerable jump from this years figures.
Paper-based happy sheets are on the decline
Happy sheets have long been the simple way to collect course feedback - as long as the trainer remembers to print off enough copies, it couldn't be more straightforward. It was in 2019 that this stopped being providers preferred method to collect feedback.
The collection of paper happy sheets by year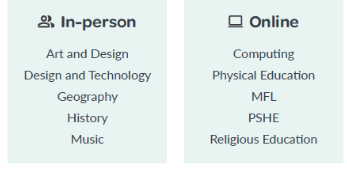 Training providers over time have realised that:
1. It takes time to upload the feedback into a central spreadsheet. Or worse, leaving it on paper! Collating data becomes both time consuming, unreliable and hard to analyse without using technology.
2. Delegate honesty is hard to predict on the day (especially on paper sheets where you're asked to put your name on and hand it back to the instructor)
Online course evaluations have now become the norm for the training industry - with tools such as Coursecheck helping providers to collect, publish and analyse feedback about their courses.
Whether you've made the switch or not, it's worth checking out our blog on how you can make the most of customer feedback.
Marketing efforts are getting both barrels
Increasing competition is inevitable, in fact it's never been more fierce than right now. You'll always be fighting tooth and nail with competitors, looking for unique ways to increase exposure, improve your offering and ultimately get more custom. Since 2016, all the evidence we have supports this increasingly struggle to be noticed.
How training providers are marketing their courses by year
Some of the most dramatic increases in recent years have come from providers using email campaigns, social media and investing in SEO, which we'll take a look at below.
Email campaigns
Email campaigns are a super-simple way to extend your offering to a large audience with minimal time investment or cost (unlike PPC initiatives or event hosting). If you are yet to tap into this marketing stream, or if you want to improve what you're already sending out, check out this super handy guide on how to increase course bookings using email.
Social media
Social media has been around long before we started running our surveys, however it was only in 2018 where training providers capitalised on the opportunity of extending their offering to social channels. There's now hundreds of guides online on how to best use each social platform including the tone you should use, how often to post, correct image size and the use of hashtags.
Percentage split of social media use within the industry in 2020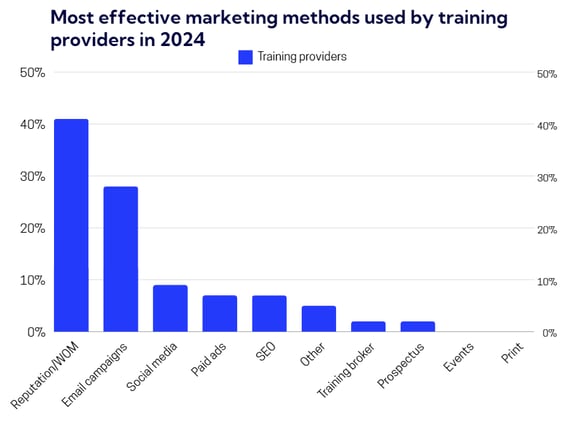 Unsurprisingly, at least in the training industry, it's Linkedin that comes out on top as our preferred platform. Offering perhaps the best stage to showcase your training portfolio, demonstrate expertise and source potential clients by industry or job role, it's unrivalled for providers to get their name out there and make meaningful connections. Check out our 5 step plan on how you can grow your training business using Linkedin.
SEO
Search Engine Optimisation or SEO is the process of increasing a websites visibility ultimately helping to attract more, better quality leads. There's a thousand things that go into a typical SEO strategy, each with the potential to influence your websites ability to rank on Google.
The interesting thing about SEO is that it's a much more long term marketing strategy than the likes of email campaigns, paid ads and social media, and often requires a much higher time investment coupled with a decent understanding of exactly what you're doing. So why is this increasing?
There's currently around 5.8 billion google searches per day.
Increasing your ability to rank in search engine results has the biggest potential of all in terms of growing your training business. By a country mile, we think.
Things you'll be more than familiar with that all contribute to SEO include:
Website design and accessibility
Page speed
Mobile friendliness
Content
Links to your site
User Experience
The increasing popularity of online booking
Course booking systems have been around a while, From eCommerce tools such as Eventbrite and Bookwhen to comprehensive training management systems, training providers are increasingly reaping the rewards of being open 24/7.
Amount of online bookings made, by year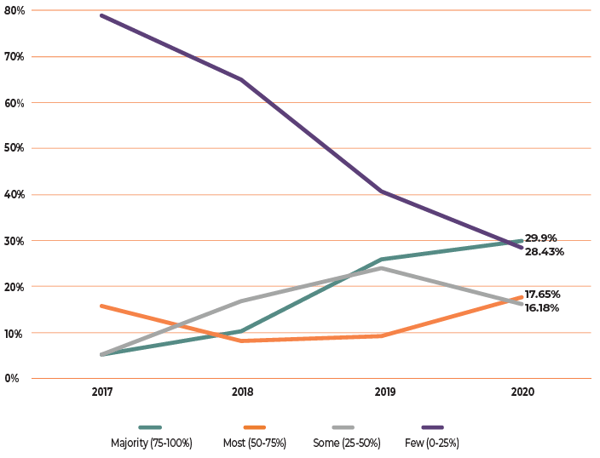 The above graph demonstrates this shift, with the vast majority of survey entrants in 2017 saying they only take a handful of online course bookings. In 2020, this is a pretty even split, with over 30% of entrants saying they receive the majority of course bookings online.
There's a number of reasons why online booking has become so important to training providers, both in terms of customer service, reducing administration and being able to make money round the clock.
Our 28-page 2020 Training Industry Benchmark Report includes all the above and more, click the image below to access your copy. It's also worth checking out our recent blog on how you can overcome 4 of the biggest challenges facing training providers this year.

Key Trends from previous years
2019
Download our 2019 Training Industry Benchmark Report

Key findings from 2019:
Three quarters of all training professionals are visiting training events this year
One third of businesses are already feeling the impact of Brexit

Use of online evaluation forms has doubled in the past three years

36% of providers are looking at implementing training schemes like apprenticeships in the next 12 months

The use of training management systems has more than doubled since 2016

3 fifths of all training providers will be focusing on some form of eLearning in the next 12 months
Watch our 12 minute talk highlighting key themes from our 2019 Training Industry Benchmark Report
2018
Download our 2018 Training Industry Benchmark Report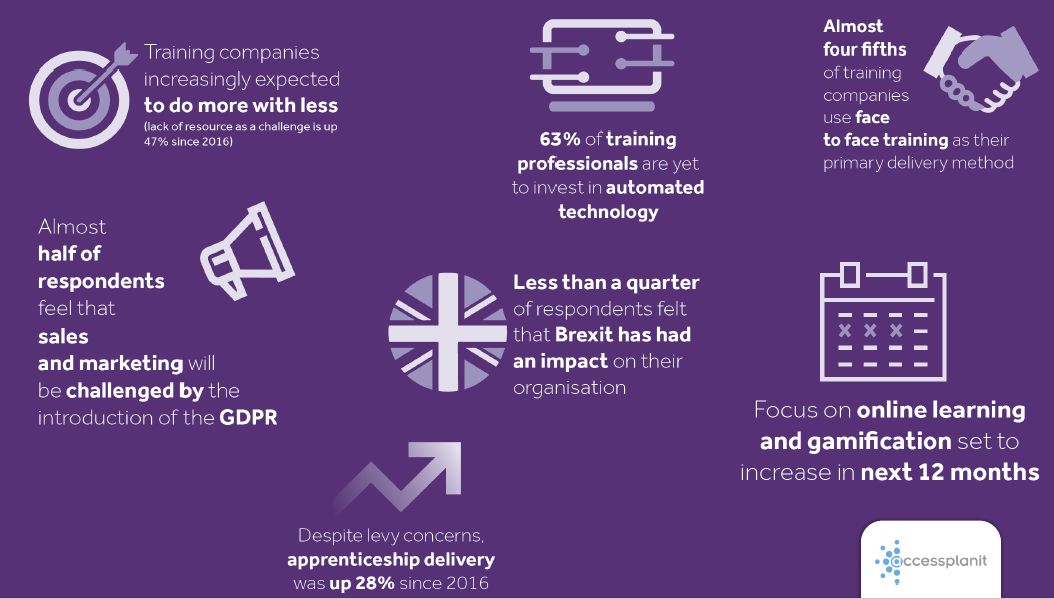 Key findings from 2018:
The #1 challenge identified by training professionals was that they

are increasingly expected to do more with less resource

Online and blended learning is set to be adopted by more and more training providers (this has increased by 25% since 2016)
72% of training companies are heavily focused on in-company training delivery
60% of those surveyed said that paper feedback forms, handed out as a
course closes, remained their primary form of generating evaluations
Almost half of respondents felt that sales and marketing will be challenged by the introduction of the GDPR
There was a reliance from training professionals on reputation (69.6%) and referrals (70.3%) to gain new business
Training professionals used phrases such as 'crowded space', 'industry is booming', 'moving forward' and 'poor government decisions' to describe the industry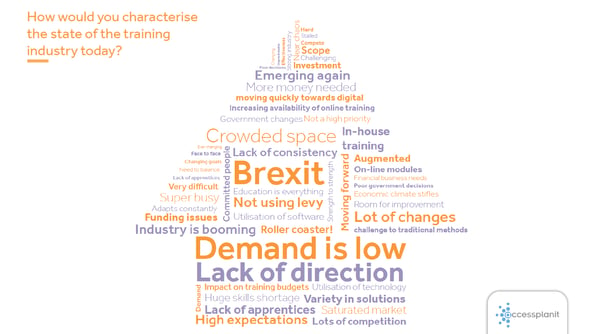 Watch our 15 minute talk highlighting key themes from our 2018 Training Industry Benchmark Report
2017
Download our 2017 Training Industry Benchmark Report
Key findings from 2017:
Over half of professionals believe Brexit will have a negative impact
Spreadsheets continue to dominate course management
Companies are focusing more on blended learning and eLearning
Interesting data:
Blended learning has been around longer than we think - it was the big opportunity for training businesses to capitalise on in 2017. Rising costs and pessimism over turnover are regular features in our annual survey.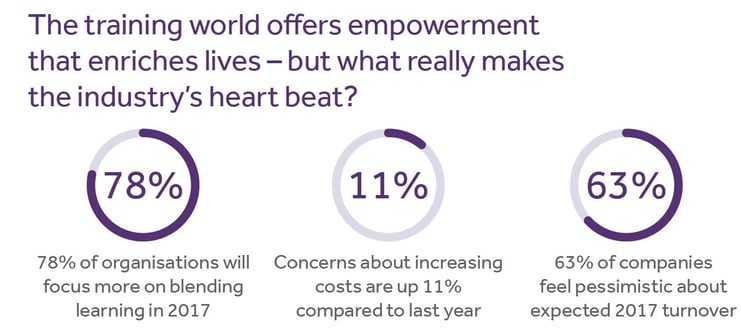 Back in 2017, opinions were split on Brexit. Perhaps the most surprising statistic is just how many people feel Brexit would have no impact at all on their training business.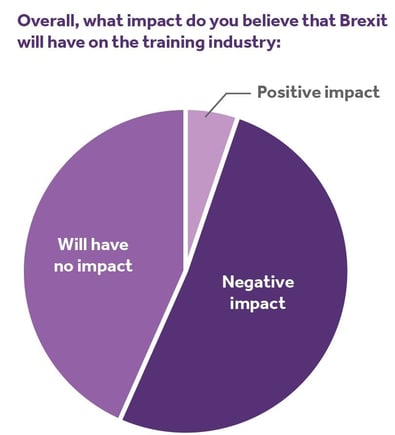 2016
Key findings from 2016:
One in three training companies identified increasing costs as one of their key challenges for running a successful training business in 2016.
Classroom training remains popular as the majority of companies stated that their main focuses in 2016 were in-house training and open courses.
Most companies are still overlooking the strength of online marketing tools.
In 2016, there is still heavy reliance on manual processes, paper feedback forms and standalone spreadsheets!
A third of training companies don't have enough business intelligence to make an informed decision.
Interesting data:
Reputation and referrals lead the way as favoured marketing tools back in 2016, with modern tools such as Google Ads, Social Media and events barely utilised.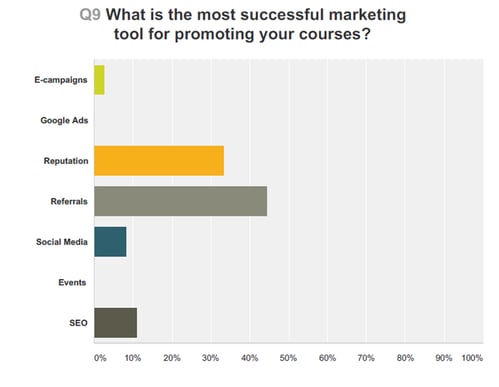 Paper happy sheets were rife back in 2016, with online course evaluations being used by less than 1/5 of training providers.

Related posts: