Why You Should Map Your Customer Journey
I recently came across an interesting post on inbound.org that looked at the different ways that companies map their customer journeys. It showed that many organisations had defined customer personas in place and were aware of their customer journeys but they didn't know how to use this information to form a strategy. So, how can you map your customer journey and execute it to see real changes in the way that customers interact with your organisation?
This post looks at the benefits of customer journey mapping and how businesses can approach this, what sometimes seems like a mammoth, task.
What is customer journey mapping?
Mapping customer journeys involves identifying all critical touch points between the customer and the organisation whether this is throughout your website, email communications or other points of contact. Think purchase confirmations, follow up offers and feedback opportunities. Mapping your communications allows you to better understand your customer journey and to identify any gaps in your current communications process.
One of the best ways to improve the experience for your customers is by creating a customer journey which guides buyers across all touch points from their initial contact with your organisation right through to after-sales support.
Effective communication mapping is especially critical in industries such as hospitality, events and training. It wouldn't look great if a customer signed up for a course but was never provided with the venue details. Communciations in this scenario could include a welcome email, joining instructions and pre and post-course evaluation forms.
Providing relevant communications at appropriate points throughout the journey integrates the paths that you would like the customer to follow with the information that the customer would like to receive. This provides the customer with a seamless end-to-end journey while helpfully guiding the delegate from initial contact to after-sales support. This provides value to the customer in order to build a lasting relationship.
Customer lifecycle vs. buyer journey
Before looking at how to map your customer journey it is important to make a clear distinction between the customer lifecycle and the buyer journey. It is easy to confuse these two processes but they both play very different roles in the customer journey map.
The customer lifecycle is the aspect of the journey that the company creates. This might include grouping customers into similar stages such as initial enquiries, opportunities and contacts. These stages can be moulded by the marketing team to categorise customers at different stages of their interaction with the company which in turn aid in creating relevant workflows.
On the other hand, the buyer journey is the path that the customer follows throughout the decision making process. This is how the customer perceives the journey and includes various touch points such as initial triggers and first points of contact with the organisation.
These two concepts must work together to create an effective customer journey. This can be achieved by ensuring that the customer has access to relevant marketing communications and content to support each stage of the journey. The company has heavy influence over the representation of the organisation and which touch points they would like to guide customers across throughout the customer journey. For example, website designs are often created based on detailed research using heat maps and eye tracking to measure visual engagement. From this, companies can place important information such as contact information, downloads or demos within certain sections of the page to improve exposure. This guides customers onto the next stage of the customer journey and leads them to crucial touch points.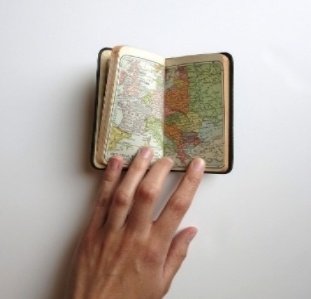 Mapping your customer journey
There are a number of touch points across a buyer's journey no matter what the product or service when they will benefit from crucial content. Customers need materials and information that will interest them and help them throughout their journey. So what kind of content should you offer your customer at each stage? Well, this will depend on your particular organisation but there are some hints and tips to guide you.
For example, before the customer makes a purchase, they may simply make an initial enquiry. This stage could be supported by a short explainer videos or a brochure that describes your organisation and the benefits of your services. When customers have passed this initial stage, they may be more interested in testimonials from previous customers through case studies or customer forums. Content at this point should be geared around encouraging them to make a purchase and clearly outline your unique value proposition. Really consider what differentiates your business from others in your industry and what will entice your customers.
Of course the above touch points all occur before an individual becomes a customer. But what about after purchase? Content should be provided throughout the journey so at this point, customers should be receiving crucial documents such as welcome emails or joining instructions. This keeps customers engaged and guides them towards the information that they need. This contact should not stop after purchase and companies should focus on customer retention, not just customer acquisition.
It is important to send post-course evaluation forms to further improve and identify strengths and weaknesses. Customers who have signed up to a blog or newsletter can also receive updates on the organisation and any changes or improvements to your portfolio. Some customers might also appreciate information on industry research to help them gain a better understanding of their chosen field.
The most crucial advice I can give you is to ensure that you are always providing content that customers want. Often companies create content based on an interesting article or something they think is funny or appealing. What is really important is understanding the value that you are providing to your customers and considering which stage of the customer journey they are at. This is essential in mapping your communication workflows and ensuring that your contacts are receiving your content at the appropriate times.
Other related articles include:
10 Tips For Your Content Marketing Strategy
How Can Content Marketing Benefit Your Training Company?
How To Improve Cross Channel Customer Service | Infographic