Meet us at Learning Technologies 2023!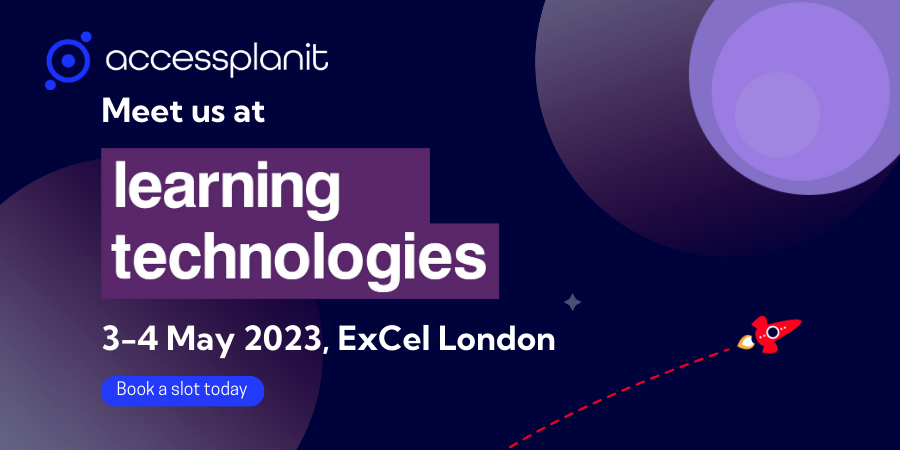 Learning Technologies annual exhibition and conference offers a chance to explore the latest trends and technologies, valuable networking opportunities and professional development resources in the world of learning and training!
We're attending and exhibiting again this year - and there's lots of reasons we think you should come along too.
Meet the accessplanit team at Learning Technologies
The accessplanit team will be at Stand B05 to answer all of your questions regarding our all-in-one training management software configured to plan, manage and sell your training courses and resources. We can't wait!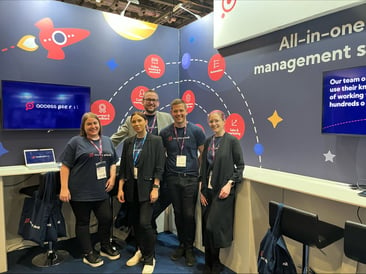 Here's why we think you should come along and see us:
Discuss your specific needs and requirements with us: by booking a slot and meeting us at Learning Technologies, we can understand more about you and your training business and find personalised solutions to achieve the results you're looking for.

You'll experience our all-in-one training management software: you'll have the opportunity to see a demonstration of our software and get a better understanding of how it can benefit your training operations.

Our team of experts will be on hand: from Customer Success to Product , our experienced team will be there to chat about all things accessplanit and the ways our software helps all kinds of training businesses.

Learn from our customers: we're delighted that some of our customers will be joining us this year! You may have the opportunity to speak to them during the exhibition and hear from them about how accessplanit has transformed their training operations.

The Training Industry Benchmark Report 2023: we'll be debuting our Training Industry Benchmark Report 2023 at Learning Technologies! This is our 7th year taking the pulse of the training industry and we can't wait to share and discuss our findings with you.
Why should training providers attend Learning Technologies 2023?
There is so much to see and do at Learning Technologies (after you've paid a visit to us of course)!
With over 9000 attendees, 200+ exhibitors, and hundreds of learning events across 11 theatres and 3 Bitesize Learning Zones, you're sure to have a valuable day packed full of insight and knowledge for your training business.
Here's some more reasons why you should attend Learning Technologies this year:
Keep up with the latest trends: Learning Technologies is one of the most significant events in the learning and development industry, and attending the event can help training providers stay up-to-date with the latest trends, technologies, and practices in the field.

Networking opportunities: The event provides a platform for training providers to meet and network with other professionals in the industry. Attendees can share experiences, ideas, and best practices, and establish new partnerships that can help grow their training businesses.

Discover new tools and technologies: Learning Technologies 2023 will showcase the latest tools, software, and technologies designed to enhance the learning and development process. Training providers can discover new solutions that can help them improve their training programs and increase the effectiveness of their training delivery.

Attend informative sessions: The event features a series of informative sessions, workshops, and presentations delivered by experts in the field. Training providers can learn from these sessions and gain insights into the latest trends, challenges, and best practices in the learning and development industry.
Attending Learning Technologies 2023 can be a valuable investment for training providers looking to stay ahead of the curve and advance their training offerings. We'd love to see you there!
Want to learn more about accessplanit?
If you're interested in learning more about using our powerful tools to grow your training business, why not book a demo with accessplanit today?
Forget about admin, automate your processes, and free up your time to focus on what matters to you and your training business.