How great content can transform marketing for training companies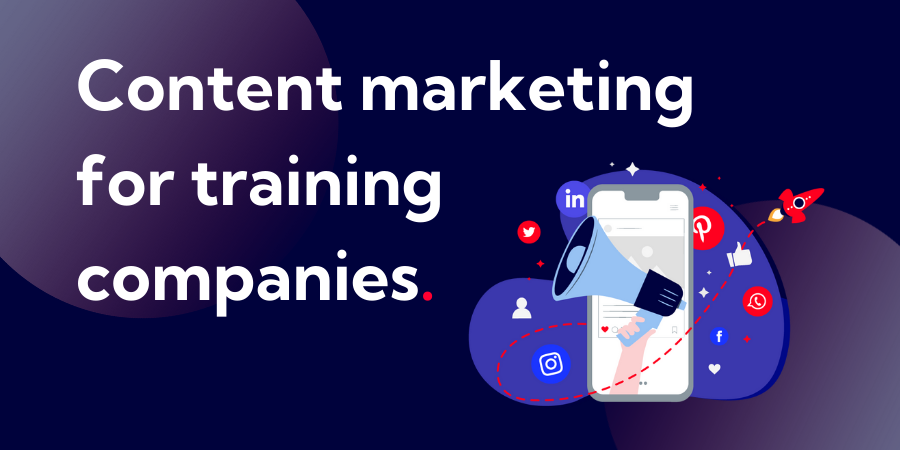 Doug Marshall, Managing Director of Achieve B2B Marketing, provides his insight into the value of content marketing.
The way to gain trust for your training company has changed. According to Gartner, buyers now complete 83% to 95% of their purchase decisions before they connect with a salesperson.
For marketers, providing educational and informative content is therefore essential for buyers. That's why this article addresses how to build trust with your customers through content marketing.
So, what is content marketing? Here's how The Content Marketing Insititute describes it:
'A marketing approach focused on creating and distributing valuable, relevant, and consistent content to attract and retain a clearly defined audience — and, ultimately, to drive profitable customer action.'
I believe there are five key attributes of good content marketing. Good content needs to be purposeful, optimised, relevant, useful, shareable, or 'PORUS' for short.
Let's look at each of these attributes. The first is purposeful. What's your purpose for content marketing? Let's look at two.
Purposeful content marketing
Brand recognition as a purpose
I was speaking to one of our training clients recently. Prior to working with us, she'd run a pay-per-click (PPC) LinkedIn ad campaign without getting any high-quality leads. We identified that without better brand recognition, buyers were less likely to engage with her company
If you're not famous for something, then you're less likely to be considered for purchase.
If you want to build brand recognition, content such as videos, infographics, and articles can be effective.
These types of content can be promoted in different ways, but they won't usually require your prospects to trade their contact details for your content. Instead, the aim is to get noticed.
Lead generation as a purpose
Once your brand is better known with relevant stakeholders you can develop content that requires the trading of contact details for content, such as white papers and webinars. This is because your prospects are more likely to trust you with their contact details, and can see that the content is valuable enough to fill in a form.
I worked with another training client who had a speaking slot at an industry conference. It gave him a platform to build awareness of his brand with promotion beforehand and of course during his speaking slot.
We then developed content that he could bring to the presentation. With a great presentation, a heightened awareness of his brand, and a valuable piece of content, we were able to generate over 100 high-quality leads.
As a general rule, when you're thinking of purpose, consider the key stages of a buying funnel - awareness, consideration and conversion, and which types of content help take your prospect down the funnel.
Optimised content marketing
Is one of the purposes of your content to drive traffic to your website? Then optimising your content for search engine results pages will be important.
This article isn't a complete guide to SEO but here's what you can do to optimise content: First of all decide on keywords that you wish to optimise and make sure they're featured in the URL and in your H tags.
Write a compelling meta description, which will be seen in many search results, so you increase views to clicks. Use external links, and gain incoming links from trustworthy websites as Google uses these in their algorithms to decide where you appear in search results.
These days, you can add plug-ins to your content management system (CMS) to help with SEO. For example, I like the way Yoast gives me a score and traffic light system to show me how to improve SEO.
One way of getting your results even more prominent is to appear on rating websites - these can also provide additional search results.
Also consider writing blogs for trusted, external websites. Google takes this into account in algorithms, and the backlink may provide additional traffic.
Relevant content marketing
When considering subjects for content marketing, it's a good idea to build ideal customer profiles. These provide a go-to document when considering subjects to engage prospective customers.
Your ideal customer profiles will give a picture of where your key prospects are and some of their behaviours, but critically it will address their pain points - what problems do they have that content might resolve?
When choosing ideal customer profiles, consider those likely to be both decision-makers and decision-influencers. These could be in training teams, and also in HR, a CFO, department heads, and potentially anyone in a company who might want to use your courses and resources.
Useful content marketing
How can you provide genuinely useful content that is useful to your audience, and yet still meets your stated purpose?
A good idea is to find out what content prospects need. I knew one marketer who did this and then built a whole company by providing a free online landlord contract. It generated a bucket load of leads and a database to mine for years.
You could also ask sales colleagues to tell you the questions that customers are asking them. This can often provoke ideas for content that will help your prospects. Better still could you speak to customers yourself to find out the content they'd find useful.
In the context of your learning brand, remember you have subject matter experts who can provide the most amazing, insightful content. One of my favourite examples of this is Mark Ritson, who has often shared his expertise on YouTube. This is brilliant for his Mini MBA in Marketing. Videos of subject matter experts sharing useful tips can be a great way to help people recognise your brand and how you can help them.
Shareable
Finally, we come to shareable. To reach training industry leaders, for example, you'll want to make sure your content appears on the relevant social media platforms.
Let's address which platforms to use first. Your ideal customer profiles should help you with this. Which social media do they use? LinkedIn has done some research on using its platform to reach L&D leaders. Unsurprisingly, it contains some stats to support the case for it being the social media of choice:
"When compared to the average LinkedIn member, the 3.4+ million L&D professionals on LinkedIn have engaged with the "eLearning" topic 2x more since January 2020. And they are one of the more active audiences on the platform in many other ways; 182% more shares of content, and 112% more companies followed.

In other words, they use LinkedIn to keep updated on what companies like yours are doing, and are more likely to amplify your content to their network. They're also far more open than the average LinkedIn member to engaging one-to-one with brands like yours."
LinkedIn is therefore likely to be the main social media to gain engagement from training industry leaders, but Twitter is also a network with high engagement in the sector. And don't forget YouTube for video content. Of course, you can experiment with less traditional networks like TikTok, but particularly if you have limited budgets you may find it more prudent to focus on networks where a continual presence is both achievable and sustainable.
In posts and getting engagement I recommend going back to the 'useful' word in our PORUS acronym. If you post elements of your content that are useful you're more likely to get engagement.
Summary
To make sure your content can be transformative for learning services, it's a good idea to follow our PORUS acronym.
Make sure all that effort has a clear purpose. That might be building trust in buyers, raising awareness of your brand, generating leads, driving traffic to your website and engagement on social media.
If driving traffic to your website is important, make sure it's optimised for keywords your audience use when searching for the learning services you provide.
Keep your audience in mind, and use ideal customer profiles to make sure your content is relevant by addressing issues they care about.
Whatever the purpose, make sure your content is useful - for example, does it help your prospects do their jobs better?
Is your content shareable on social media? Relevant and useful content is more likely to be shared by your prospects.
Your training company is likely to be all about helping people improve their performance - good use of content marketing can show prospects they can trust your business to do just that.
Looking for more ways to attract and convert customers? Why not have a read of our guide no how to increase course bookings using email!