accessplanit Is Upgraded To 11 Compliance Plus In Customer Service Excellence

At accessplanit, we are heavily committed to providing the highest levels of service, support and experience to our customers. That's why we're so pleased to say that our team's continued hard work has paid off and we have upgraded our status in our most recent Customer Service Excellence standard assessment to 11 compliance plus elements.
The Customer Service Excellence standard 'tests in great depth those areas that research has indicated are a priority for customers, with particular focus on delivery, timeliness, information, professionalism and staff attitude' to ensure that businesses are providing excellent customer-focused services.
To achieve the standard, organisations have to provide evidence to show that they meet all of criteria 57 elements that make up the program. The assessment visit includes discussions with customers, meetings with a variety of staff members from front line to senior management and the observation of service delivery.
We are over the moon to not only have passed our latest assessment but to have achieved 11 compliance plus status elements.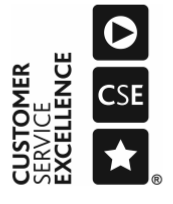 We now hold compliance plus status in these areas:
Having an in-depth understanding of the characteristics of our current and potential customer groups.
Having insight about our customer groups to better understand their needs and preferences.
Delivering the service we promised to individual customers and ensuring the outcomes are positive for the majority of our customers.
Having a corporate commitment to putting the customer at the heart of service delivery and leaders in our organisation are active customer advocates.
Demonstrating how customer-facing staffs' insight and experience is incorporated into internal processes, policy development and service planning.
Making the consultation of customers integral to continually improving our service and we advise customers of the results and action taken.
Valuing the contribution our staff make to delivering customer focused services, and leaders, managers and staff demonstrate these behaviours.
Advising our customers and potential customers about our promises on timeliness and quality of customer service.
Demonstrating that we benchmark our performance against that of similar or complementary organisations and have used that information to improve our service.
Empowering and encouraging all employees to actively promote and participate in a customer- focused culture.
Regularly reviewing our strategies and opportunities for consulting and engaging with customers to ensure that the methods used are effective and provide reliable and representative results.
Audrey Clark, Head of Customer Experience said, "All the hard work that the team continue to put in to provide a truly customer-focused service has ensured that we now have 11 compliance plus areas in the business. I'm really proud of the whole team and the service that the relationships they build with our customers'.
Building on the standard has allowed us to explore more and more ways to provide additional benefit to our customers. One of our key pieces throughout the process was customer feedback. Watch the video below to find out more about how we support our customers.
Other articles you might find interesting include:
The Life of A Customer Success Manager
accessplanit Achieves ISO 9001:2015 Accreditation
accessplanit Chosen As Winners In HSBC Customer Service Award