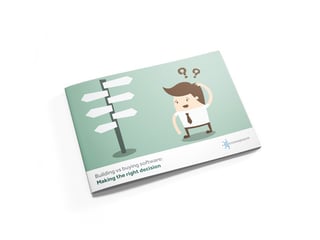 Making The Right Software Decision For Your Business
One of the biggest dilemmas that many companies face is the decision to build custom software in-house or invest in existing software solutions to meet their business needs. Building custom software gives you the flexibility to personalise your system and design it to achieve exactly as much or as little as you need. However, this option can be extremely time-consuming and expensive so many companies choose to invest in an existing system to benefit from faster implementation and return on investment. What option is right for your company? In this free guide we explore both options in detail to help you come to the right decision.
What's included within this guide?
If you feel like you are facing this dilemma, you need to assess the pros and cons of both options. To find out more, all you have to do is fill in your details and you can access your free copy in seconds. Thank you for your interest.
Download Your Copy