Training Industry Benchmark Report 2018 – Where Do You Rank?
At this year's Everest Conference, we presented the findings of our Training Industry Benchmark Report 2018. What is the most popular training delivery method right now and which one is on the up? How well are training companies marketing their courses? What is the one thing challenging training professionals above all else?
To take the training industry's pulse, we surveyed a range of professionals across a whole host of business sectors, in order to find out how the industry is really doing business in 2018. And the results may surprise you.
You can read the full, accessplanit Training Industry Benchmark Report 2018 here, but here's a look at the top findings that were presented at Everest Conference 2018…
Key training industry takeaways
The presentation began with the presentation of the headline findings: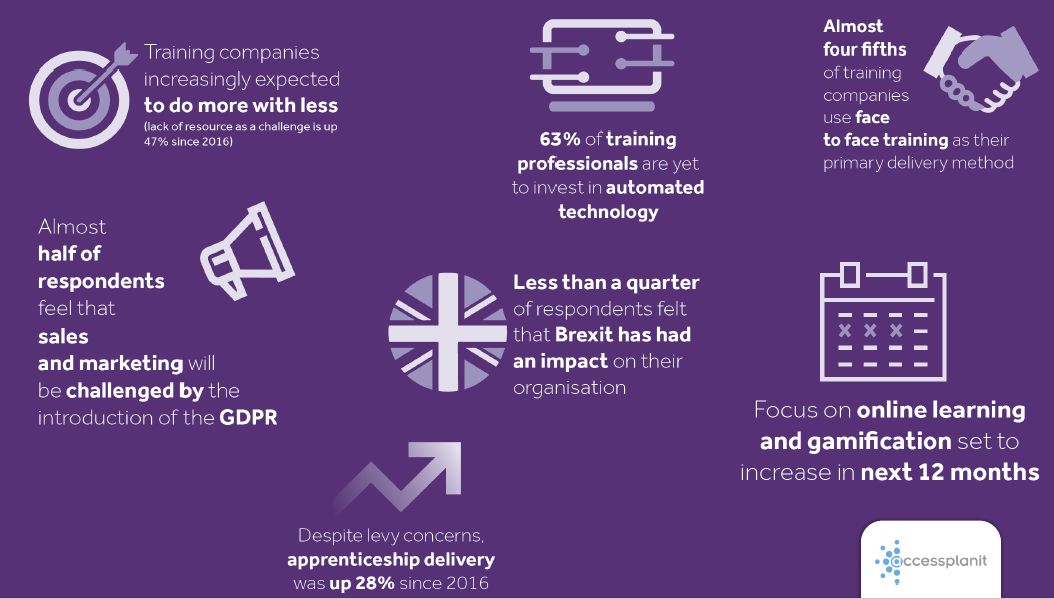 3 key findings from the report
Training companies are increasingly expected to do more with less resource (#1 challenge identified by training professionals today)
There is set to be an upturn in the training businesses offering online and blended learning in 2018
63% of training professionals surveyed are still yet to invest in automated technology
Download the full 2018 Training Industry Benchmark Report here.
Training Industry Trends 2018
This year, we have split the report into three key sections:
The Training Industry
Technology
Sales & Marketing
Let's dive in...
The Training Industry
Our results showed that both eLearning and blended learning focus is set to rise in the coming 12 months (87%). The focus on eLearning has increased dramatically from both 2016 (22%) and 2017 (25%). 2017 in particular saw a dip in the online approach but there is no denying that is now gaining traction once again. Read more about the differences between eLearning and gamification and evaluating which is right for your online learning approach.
Another interesting finding from the survey was the increased uptake of apprenticeship delivery from 2016 and 2017 despite government statistics that the apprenticeship levy has seen a decline in apprenticeship delivery. However, the training industry appear to feel optimistic as a further 44% of survey respondents are set to increase their apprenticeship focus in the next 12 months.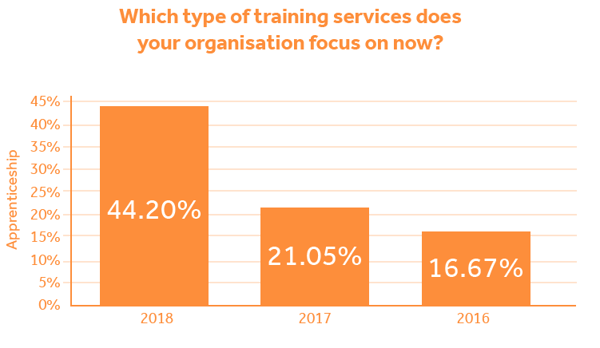 Technology
Throughout the findings, it was apparent that there is an underutilisation of technology and digital tools within the industry.
"The survey highlighted that lack of resource as a concern is up 47% since 2016 – technology is a huge opportunity for a sector that is being asked to do more with less."
This was recognised by factors such paper sheets increasing in popularity (63% of the sample cited a reliance on paper happy sheets) and less than 20% of training professionals leveraging digital marketing tools such as Google Adwords (13%) and Search Engine Optimisation (17%).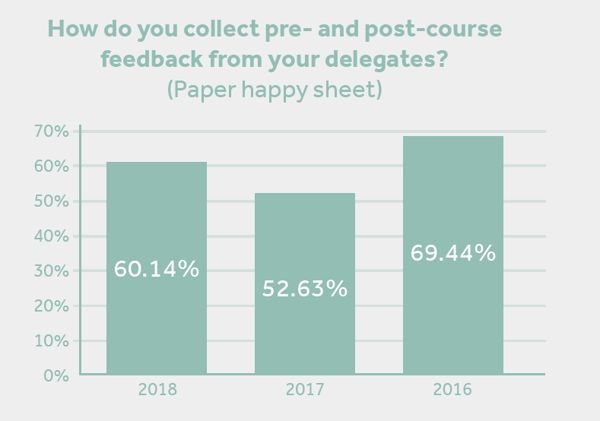 Sales and Marketing
Echoing our responses from our previous two surveys, the training industry is still heavily reliant on recommendations and reputation in order to generate new business.
"Traditional word of mouth is no longer the only option for consumers. Review sites, social media and forums now meaning that delegates can multiply their impact."
The key point highlighted throughout the presentation was how the company - customer dynamic has changed and how much power the consumer now has due to factors including online review sites, social media and an increased choice of providers. This means that training providers must work harder than ever to provide an excellent service for their delegates.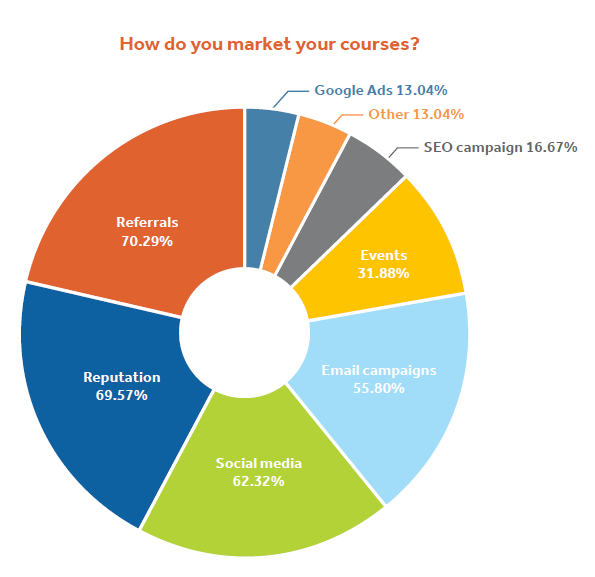 Want more insights?
Finally, we'd like to also thank all those professionals who took the time to complete our survey. Your insights are, as ever, invaluable. It'll be interesting to see how the year unfolds for our industry – meanwhile, you can find out how 2018 compares to our survey last year by downloading the 2017 report.
Still want more? Get industry insights, including…
The next steps for the industry
Ways that training delivery is changing
How training professionals need to embrace the digital age
The resources the training community use to stay up to date
Download the Training Industry Benchmark Report 2018 now, and see how your training company ranks against the rest of the industry.
Watch Training Industry Trends 2018 Delivered at Everest Conference 2018
Watch the presentation delivered at Everest Conference 2018 below.
Related posts include:
[2018 Update] The 4 Biggest Challenges Faced By Training Companies
Training Industry Benchmark Report 2017
Sign up for a free demo!
See for yourself just how our training management system can help your business
Sign up now