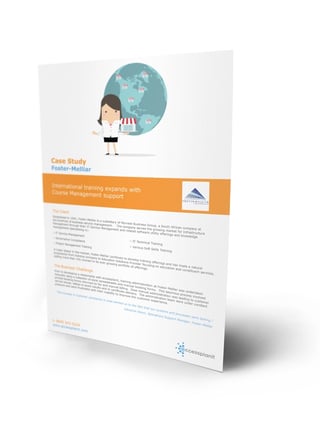 CORE BENEFITS
A truly tailored, 'perfect fit' system

Global currency pricing

50% reduction in administration time
Foster-Melliar specialises in IT service management, project management training and IT technical training. Their original course management operations were strongly reliant on manual processes and spreadsheets, leading to customer service issues.
So we…
Developed a modular, tailored system solution that perfectly fits their every requirement. This included the introduction of real-time online course booking and availability, greater business intelligence and cutting manual administration by 50%.
'We would never gamble our business on a system or solution that we were not 100% comfortable with or that would not grow with us as we grow into the future.'
Prior to our support, laborious administrative processes meant certification and exam result delays, and unresolvable customer service problems. As the customer told us: 'The increase in customer complaints is what alerted us to the fact that our systems and processes were lacking.'
That's when we stepped in.
According to the client...
'What blew us away was the ability to see courses in real-time. The numbers, availability, and viability, and the view of bookings and courses filling up. The reporting is great, and the automatic email and administration is a winner.'
By automating 50% of administrative tasks, accessplanit's training management system enabled Foster-Melliar to refocus on delivering a first-class customer experience. The client also gained greater visibility over their training – ensuring they can make business decisions that benefit the entire company.
'The system looks very professional. It is robust, easy to use and has all the functionality we need. The feedback we receive from clients using the system is always extremely positive.'
Adrienne Steyn, Operations Support Manager, Foster-Melliar
Find out how we did it...
Get your free case study today, and explore how we supported Foster-Melliar's global expansion.
Download Your Copy