The Musgrave Group Save 40% In Training Processing Time

A training management system is an extremely versatile piece of a software. From running events and handling driver offences to providing a platform to manage exams and stay on top of employee compliance. This 10 part series looks at the varied ways a course management system can be utilised. The first in the series focuses on how Musgrave use a system to support 55,000 employees' Learning & Development across Europe.
As they say, every problem is different. The same can be said for solutions. Read on to learn about how Musgrave use an automated system and download the free eBook to discover how 9 other businesses harness the power of automation.
So, who are Musgrave and what do they do?
The Musgrave Group is a retail business with a turnover exceeding €4.5bn and a workforce of over 55,000. The company operates in Spain, UK and Ireland specialising in the food and grocery market with household name brands including Budgens, Londis, SuperValu, MACE, Musgrave MarketPlace and Musgrave Foodservices.
And what do they need a training management system for?
To put it simply, with 650 stores and over 55,000 employees Musgrave require a way to easily track and manage learning and development. Features that they utilise include:
Online course booking – allowing for instant registration and real-time course information.
Document generation – automatically generated information for both attendees and trainers reducing training administration time.
Resource management – the ability to manage and schedule trainers and venues avoiding double booking.
Report Writer – a tool which allows the company to generate bespoke reports to gather required business information.
Can you tell me about the benefits?
Previously the organisation were using a series of spreadsheets combined with an out of date system. Through the adoption of a course management system Musgrave have seen measurable benefits:
Measurable ROI – 40% reduction in resource requirement.

Increased employee motivation – employees have 24/7 access to course booking and control over their own learning with the use of training portals.

Ability to plan ahead – in-depth reporting provides the business with the opportunity to plan ahead with confidence.
Improved business visibility – real time information on all aspects of training which has resulted in a sped up decision making process.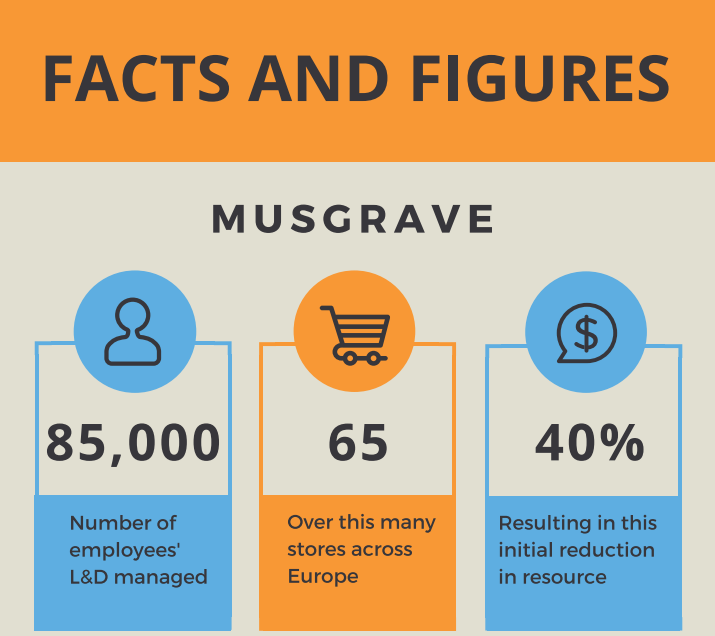 To find out more about how Musgrave use an automated system and 9 other uses download free '10 ways to use a training management system' eBook. Additionally, subscribe to the blog to receive the next instalment.
Other titles include:
How Lagoon Watersports use accessplanit software to capitalise on seasonal business
How Northamptonshire Police use accessplanit software to improve road safety
How Citizens Advice utilised accessplanit software to manage events
How Mace Business School use accessplanit software to utilise QR technology