How Lagoon Watersports Capitalise On Seasonal Business With accessplanit

A training management system is an incredibly versatile piece of software used by organisations in a huge variety of ways. These uses include managing events, handling examinations and staying on top of employee learning and development. This 10 part series looks at the varied ways a course management system can be utilised with this post exploring how Lagoon Watersports capitalise on seasonal business with the support of an automated course booking system.
So, who are Lagoon Watersports and what do they do?
The Lagoon Watersports centre and sailing school has 18 years' experience of providing watersports training and events to individuals and groups. The Lagoon Watersports Centre and Sailing School is based across three centres at Hove Lagoon, Brighton Marina and Gosport and in addition to lessons and courses, offer events for groups as well as hire and charter.
And, what do they need a training management system for?
With the business being seasonal the greatest challenge is ensuring that trainers and equipment are maximised to their potential during peak operating times. Another key requirement was the ability to take session bookings online. Features utilised to achieve this include:
Online booking - real time information integrated into the website for fast direct booking.
Finance - for online payment or invoice generation. The system deals with credit notes, variable pricing and discounting across courses.
Communication including SMS – for instant communication, updates and reminders.
Reporting - providing business intelligence across the business to support planning.
Email Marketing - to manage data, generate mailing lists and target customers with e-campaigns.
Can you tell me about the benefits?
Prior to adopting the Course Manager system the Lagoon Watersports centre and sailing school used a customised version of a file managing and transfer tool for operations across the three centres. Servers held at one location were accessed remotely and often reacted slowly causing delays and frustration. Customers could book courses through the website, but the information had to be downloaded and manually processed.
Through the implementation of a course management system into the business Lagoon Watersports have seen measurable benefits:
Re-allocated resource - removing the emphasis from administration, to tasks which improve customer experience and new business potential.
Standardisation - 24/7 booking across all sites removes the potential for error and standardises working practices.
Improved system speed and reliability - using a cloud based system has speeded the process for all users across the three centres.
Business intelligence - the system provides Lagoon with valuable information including resources to determine course viability and assist in future planning.
Business growth - the system has supported the 20% increase in course participation.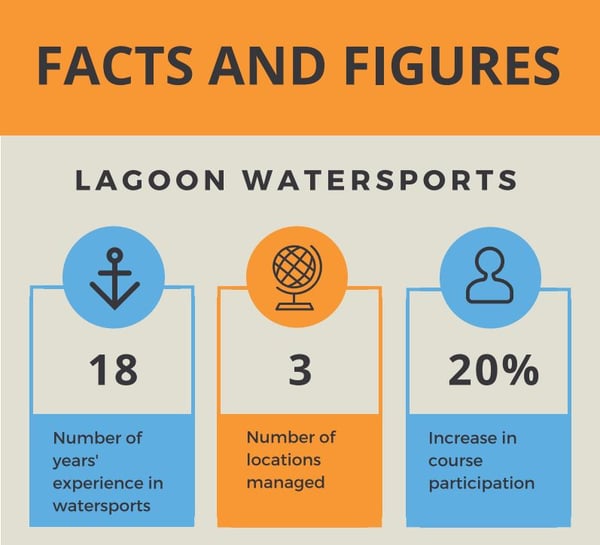 To find out more about how Lagoon Watersports use an automated system to manage 3 centres and 9 other uses of training management software download free 10 ways to effectively use a training management system eBook. Additionally, subscribe to our blog to receive the next instalment.
Other titles include:
How Northamptonshire Police use accessplanit software to improve road safety
How Citizens Advice utilised accessplanit software to manage events
How Mace Business School use accessplanit software to utilise QR technology
How Musgrave use accessplanit software to support 55,000 learners across Europe